HORSERADISH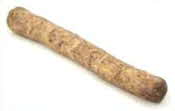 Horseradish has nothing to do with horses and it is not a radish (it's a member of the mustard family). The name may have come from an English adaptation of its German name. In early times the plant grew wild in European coastal areas; the Germans called it meerrettich, or sea radish. The German word meer sounds like mare in English. Perhaps mareradish eventually became horseradish. The word horseradish first appeared in print in 1597 in John Gerarde's English herbal on medicinal plants.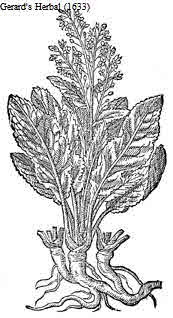 Horseradish, a member of the mustard family, is native to eastern Europe, and it may have originated in Asia, Germany, or the Mediterranean area. It has been used for so long, that no one knows for sure when and where it originated. The ancient Greeks used it, so did the Jews in their exodus from Egypt in 1500 BC. It is one of the 5 bitter herbs of the Jewish Passover. It was originally used for medicinal purposes.

Tulelake, California, is known as the Horseradish Capital of the World.

Horseradish was used to produce Horseradish ale in the 17th century.
The bite and aroma of the horseradish root are almost absent until it is grated or ground. During this process, as the root cells are crushed, volatile oils known as isothiocyanate are released. Vinegar stops this reaction and stabilizes the flavor. For milder horseradish, vinegar is added immediately.

An estimated 24 million pounds of horseradish roots are processed annually in the U.S. to produce 6 million gallons of prepared horseradish.

Horseradish has also been known as 'redcole' and 'stingnose.'

Please feel free to link to any pages of FoodReference.com from your website.
For permission to use any of this content please E-mail: [email protected]
All contents are copyright © 1990 - 2023 James T. Ehler and www.FoodReference.com unless otherwise noted.
All rights reserved. You may copy and use portions of this website for non-commercial, personal use only.
Any other use of these materials without prior written authorization is not very nice and violates the copyright.
Please take the time to request permission.
FOOD TRIVIA and FOOD FACTS
CULINARY SCHOOLS
& COOKING CLASSES
From Amateur & Basic Cooking Classes to Professional Chef Training & Degrees
FoodReference.com (since 1999)
FOOD TRIVIA and FOOD FACTS SECTION