See also: Blueberry Muffins & Pies; Blueberry History; Blueberry Terminology
BLUEBERRY TRIVIA
The U.S. is the world's largest producer of blueberries, harvesting a total of 564.4 million pounds of cultivated and wild blueberries in 2012. More than 473.3 million pounds of cultivated blueberries were harvested, and about 60 percent were sold as fresh blueberries.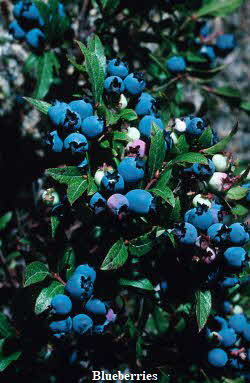 Blueberries are the 2nd most important commercial berry crop in the United States, with a total crop value of nearly $850.9 million in 2012. (Strawberries are number 1)

Maine is the leading produces of 'wild' or lowbush blueberies, harvesting 91.1 million pounds in 2012.

Michigan is the leading producer of cultivated blueberies, harvesting 87 million pounds in 2012. Other top producing states included Georgia, Oregon, Washington and New Jersey. Cultivated blueberries are also grown in Alabama, Arkansas, California, Florida, Indiana, Mississippi, New York and North Carolina.
The Blueberry (Genus Vaccinium) was designated as the Official Blue Berry of North Carolina in 2001.

Did you know.....that early American colonists made grey paint by boiling blueberries in milk.

The blue paint used to paint woodwork in Shaker houses was made from sage blossoms, indigo and blueberry skins, mixed in milk.

There are 16 people in the U.S. listed on whitepages.com with the last name 'Blueberry'
(Mark Morton, 'Gastronomica', Fall 2010)
If all the blueberries grown in North America in one year were spread out in a single layer, they would cover a four-lane highway that stretched from New York to Chicago.
(The Great Food Almanac)
Blueberries and huckleberries although related, are not the same. One obvious difference is that the blueberry has many soft, tiny almost unnoticeable seeds, while the huckleberry has ten larger, hard seeds. Blueberries are also more blue, while huckleberries are blackish blue or redish black. This red/black variety is also called southern cranberry.

Blueberries have been commercially cultivated only since the early 20th century, when the USDA helped develop new improved varieties.

Blueberries contain significant quantities of both antibacterial and antiviral compounds, and have a reputation in northern Europe of fighting infections.They may also help protect against heart disease.
The blueberry is the official berry of Nova Scotia.

In 1991 Maine designated the Wild Blueberry as the Official State Berry.

New Jersey designated the Highbush Blueberry (Vaccinium corymbosum) as its Official State Fruit in 2004.

The North American Blueberry industry ships more than 100 metric tons of fresh blueberries each year to Iceland, and more than 500 metric tons to Japan. (2005)
North America produces nearly 90% of world blueberry production (2005).
Wild blueberries are grown on 60,000 acres in Maine, and 99% of this wild blueberry crop is frozen. (Although some of these are later canned).

FREE Magazines
and other Publications
An extensive selection of free magazines and other publications
FOOD TRIVIA and FOOD FACTS
Please feel free to link to any pages of FoodReference.com from your website.
For permission to use any of this content please E-mail: [email protected]
All contents are copyright © 1990 - 2023 James T. Ehler and www.FoodReference.com unless otherwise noted.
All rights reserved. You may copy and use portions of this website for non-commercial, personal use only.
Any other use of these materials without prior written authorization is not very nice and violates the copyright.
Please take the time to request permission.
CULINARY SCHOOLS
& COOKING CLASSES
From Amateur & Basic Cooking Classes to Professional Chef Training & Degrees
FoodReference.com (since 1999)
FOOD TRIVIA and FOOD FACTS SECTION