BARBED WIRE TRIVIA
Wooden fences were time consuming and expensive to erect and also required a lot of maintenance. The value of U.S. fencing stock in 1872 was just about equal to the value of all livestock in the country! The cost of maintaining those fences each year was more than all local, state and federal government tax revenues combined. Barbed wire changed that.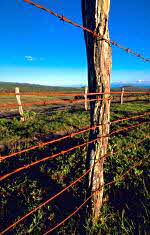 The first commercially successful barbed wire was patented in 1874 by Joseph Farwell Glidden, a DeKalb, Illinois Farmer. Barbed wire was cheap to produce and easy to put up, and kept roaming livestock out of farmer's crop fields. It was an immediate success and the beginning of the end of open range in the west.

In 1876 commercial production was 1,500 tons and by 1900 annual barbed wire production had reached 200,000 tons. By 1910 wooden fences had almost disappeared.

CULINARY SCHOOLS
& COOKING CLASSES
From Amateur & Basic Cooking Classes to Professional Chef Training & Degrees - Associates, Bachelors & Masters - More than 1,000 schools & classes listed for all 50 States, Online and Worldwide
FOOD TRIVIA and FOOD FACTS
Please feel free to link to any pages of FoodReference.com from your website.
For permission to use any of this content please E-mail: [email protected]
All contents are copyright © 1990 - 2023 James T. Ehler and www.FoodReference.com unless otherwise noted.
All rights reserved. You may copy and use portions of this website for non-commercial, personal use only.
Any other use of these materials without prior written authorization is not very nice and violates the copyright.
Please take the time to request permission.
FoodReference.com (since 1999)
FOOD TRIVIA and FOOD FACTS SECTION