See also Articles: Sage - The Savior
and Sage Field Report: Albania
SAGE

More than 2 million ounces of sage are sold in the U.S. each year.

The herb Sage is a member of the mint family.

Sage (Salvia officinalis) is a perennial shrub about 2 feet high and has over 500 varieties. Its flowers are fragrant, usually purple or blue, sometimes white, red or pink. They are rich in nectar, and it's honey is in great demand in Europe because of its spicy flavor. Some varieties, have broad leaves; others have foliage variegated with red, yellow, or white.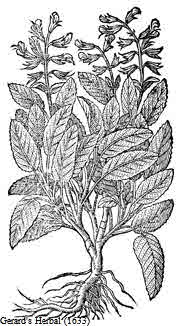 During the 17th century, the Chinese exchanged three or four pounds of their tea with Dutch traders for one pound of European sage leaves.

For most of its long history the herb sage has been a healing herb (supposedly curing everything from snake bites, eye problems, infection, epilepsy, intoxication, memory loss, worms and intestinal problems) or prescribed as an aphrodisiac.

Dried sage leaves are use to season meats, in baked goods and beverages. Sage leaves are also used to flavor vermouth and various bitters. For years it has been used in the preserving of foods. We now know that sage contains powerful anti-oxidants which slow spoilage. Sage is also antibacterial in nature, is effective in treating sore throats and is even effective as an antiperspirant.

It was believed that sage stimulated the brain, therefore, increasing powers of concentration, memory and reasoning. From this, the word "sage" took on another meaning – wise person.

Sage was rubbed on the teeth to make them whiter in nineteenth-century America.

Please feel free to link to any pages of FoodReference.com from your website.
For permission to use any of this content please E-mail: [email protected]
All contents are copyright © 1990 - 2023 James T. Ehler and www.FoodReference.com unless otherwise noted.
All rights reserved. You may copy and use portions of this website for non-commercial, personal use only.
Any other use of these materials without prior written authorization is not very nice and violates the copyright.
Please take the time to request permission.


FOOD TRIVIA and FOOD FACTS
FoodReference.com (since 1999)
FOOD TRIVIA and FOOD FACTS SECTION