GUAVA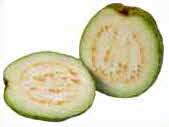 Guavas (Psidium guajava)are small trees or shrubs of the myrtle family, which are believed to have originated either in southern Mexico or Brazil. Guavas have been cultivated for their plum-like fruit, of the same name, since about 1,000 B.C., and were favorites of the Aztec and Incas. Today they are grown in tropical countries around the world.
There are about 150 varieties, with round to pear shaped fruit that range in size from one to four inches in diameter. The most common variety is yellow, but the colors of various species can be white, yellow, red, purple or black. The better varieties have a soft rind that is edible. The flavor ranges from sweet to tart, with pleasant, highly aromatic white, yellow, pink or red flesh. Unripe guava can have a decididly unpleastant musky, gym-like odor. Guava have 100-500 small seeds, which are edible in some varieties; there are also some seedless varieties.
The fruit can be eaten fresh out of hand, cut up in fruit salads, or used to make guava paste, ice creams, beverages, and jellies.
Guavas have 5 times the vitamin C of oranges, and are also rich in vitamin B1 and vitamin A.
The strawberry guava is a true guava, but if you come across a pineapple guava, sometimes just labeled 'guava,' olive green and egg shaped, this is NOT a guava - it is a Feijoa, a relative also native to South America, but primarily cultivated in and exported from New Zealand.

Please feel free to link to any pages of FoodReference.com from your website.
For permission to use any of this content please E-mail: [email protected]
All contents are copyright © 1990 - 2023 James T. Ehler and www.FoodReference.com unless otherwise noted.
All rights reserved. You may copy and use portions of this website for non-commercial, personal use only.
Any other use of these materials without prior written authorization is not very nice and violates the copyright.
Please take the time to request permission.
FOOD TRIVIA and FOOD FACTS
CULINARY SCHOOLS
& COOKING CLASSES
From Amateur & Basic Cooking Classes to Professional Chef Training & Degrees
FoodReference.com (since 1999)
FOOD TRIVIA and FOOD FACTS SECTION