Fire Roasted Tomato Basil Crab Bisque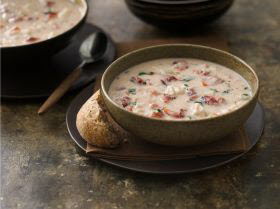 Your guests will be impressed with the flavorful first course featuring Fire Roasted Tomato-Basil Crab Bisque. This rich, hearty dish combines tomatoes, celery, onions, wine, cream and fresh lump crabmeat for beautiful color and texture. Add a special touch and serve soup in fancy, tall shot glasses or small espresso cups for an elegant and festive look.
Prep Time: 30 Minutes
Start to Finish: 1 Hour
6 servings (about 1 cup each)
Ingredients
• 1 can (14.5 oz) Muir Glen Organic Fire Roasted crushed or diced tomatoes, undrained
• 2 cups organic chicken broth
• 1/2 cup finely chopped celery
• 1/4 cup finely sliced green onions (white part only)
• 6 tablespoons unsalted butter
• 2 tablespoons Gold Medal all-purpose flour
• 2½ cups half-and-half
• 1/4 cup dry white wine
• 1/2 teaspoon salt
• 1/4 teaspoon black pepper
• 3/4 lb fresh lump crabmeat or 2 packages (6 oz each) pasteurized refrigerated lump crabmeat
• 2 tablespoons chopped fresh basil leaves

Directions
1. In 2-quart saucepan, combine tomatoes, broth, celery and onions. Cook over medium-high heat 10 to 12 minutes, stirring occasionally, until celery is softened.

2. In 4-quart saucepan, melt butter over low heat. Using wire whisk, stir flour into butter. Cook 1 minute, stirring constantly. Slowly add half-and-half, stirring constantly. Stir in tomato mixture, 1 cup at a time.

3. Stir in wine, salt and pepper. Bring to a boil over medium-high heat. Reduce heat to low; stir in crabmeat and basil. Cover and simmer 30 minutes, stirring occasionally.
Nutrition
1 Serving: Calories 330 (Calories from Fat 220); Total Fat 24g (Saturated Fat 15g, Trans Fat 1g); Cholesterol 120mg; Sodium 940mg; Total Carbohydrate 10g (Dietary Fiber 1g, Sugars 7g); Protein 17g
% Daily Value: Vitamin A 20%; Vitamin C 10%; Calcium 20%; Iron 8%
Exchanges: 1/2 Other Carbohydrate, 2 1/2 Lean Meat, 3 1/2 Fat
Carbohydrate Choices: 1/2
Recipe courtesy of Muir Glen. Muir Glen is a Registered Trademark of Small Planet Foods, Inc.