COCONUT SHRIMP WITH ORANGE GINGER MARMALADE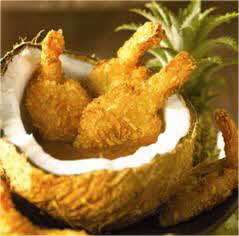 While there is some time spent in preparing these incredible treats, you can do it all ahead of time except for the actual frying. The sauce actually improves with aging for a couple of days in the refrigerator.
Serves: 8
Preparation Time: 45 min
INGREDIENTS
Marmalade Dip
• 1 cup rough cut orange marmalade
• 4 teaspoons minced, fresh ginger
• 1 tablespoon minced garlic
• 1/3 cup fresh lemon juice
• 1/4 teaspoon black pepper
• 1/2 teaspoon red pepper flakes

Batter
• 1½ cups warm beer
• 1½ cups all-purpose flour
• 3 tablespoons melted butter
• 4 eggs separated
• 1/4 teaspoon white pepper
• 1/2 teaspoon salt
• 1/4 teaspoon paprika

Shrimp Preparation
• 2 pounds raw, large shrimp, peeled and de-veined
• 3/4 cup grated Parmesan cheese
• 3/4 cup chopped, blanched almonds
• 3/4 cup chopped unsweetened, coconut
• 3/4 cup fractured dry angel hair pasta
• 3 cups canola oil

COOKING DIRECTIONS
Prepare the Marmalade Dip: In a medium bowl, mix the marmalade, ginger, garlic, lemon juice, and peppers. Set aside or refrigerate for later use.

Prepare the Batter:
With a whisk, mix the beer, flour, melted butter, egg yolks, salt, pepper and paprika into a smooth batter. Rest this for 1 hour at room temperature. Reserve the egg whites.

In a large bowl, toss to mix the Parmesan cheese, chopped almonds, unsweetened coconut, "fractured" pasta. To fracture: break up the pasta strands into short pieces and enclose in a tea towel. Use a rolling pin or other heavy object to roll over the pasta and crush it into tiny bits about the size of a grain of rice.

When you are ready to cook the shrimp, beat the egg whites until stiff and dry. Fold the stiff egg whites into the beer batter.

Holding the shrimp by the tail, dip them into the beer batter a few at a time and coat thoroughly. Transfer the battered shrimp to the plate of coconut mix and use your hand to press mix onto the shrimp. As they are thoroughly coated, transfer these prickly bundles to a sheet pan lined with plastic wrap or foil. Prepare all of the shrimp in this way, cover and refrigerate.

To cook the shrimp:
Put the canola oil in a heavy, deep pan (wok or Dutch oven) and bring to 375°. If you don't have a candy thermometer, drop in a spoonful of the batter mix to test the oil temperature. If it sinks to the bottom of the pan, and stays there, the oil is not hot enough. If it immediately burns, the oil is too hot. It should drop, and then bob back to the surface and become golden in about 1 to 2 minutes.

When the oil is at the correct temperature, gently slip the coated shrimp into the oil. Do not overload your pan with too many shrimp at one time. Depending on the size of the pan, 3 to 6 pieces at a time is probably the most that can safely be cooked in one batch. Using a strainer or slotted spoon, roll the shrimp around in the oil to cook evenly. When they are golden, about 2 to 4 minutes, remove from the oil and drain on paper towels. Serve immediately with the sauce.

( recipe & photo courtesy of Samsclub.com/seafood )