BBQ SHRIMP QUESADILLAS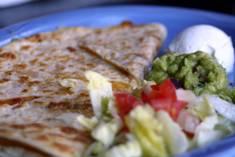 Serves: 4

Ingredients:
• 8 ounces cooked shrimp, diced
• 1 orange bell pepper, roasted or grilled and finely diced
• 2/3 cup fresh or frozen corn kernels, thawed
• 1/2 cup reduced-fat shredded Cheddar cheese
• 2 tablespoons all-natural barbecue sauce
• Four 10-inch flour tortillas
• 2 teaspoons canola oil

Instructions:
Combine the shrimp, bell pepper, corn kernels, cheese, and barbecue sauce in a bowl.

Divide the mixture evenly and spread over half of each tortilla. Fold over, press down gently, and set aside.

Heat 1 teaspoon of the oil in a large nonstick skillet over medium-high heat.
Add two of the quesadillas and cook until the tortillas become crisp and golden on the bottom, about 3 minutes. Flip the tortillas and cook an additional 2 minutes.

Repeat with the remaining oil and quesadillas.

Cut into quarters and serve.
Nutrition Information:
380 calories, 11g fat (3g saturated, 0.5g omega-3s), 780mg sodium, 47g carbohydrate, 4g fiber, 23g protein, 25% vitamin A, 70% vitamin C, 20% calcium, 25% iron

Recipe Courtesy of: The Shrimp Council and Janice Newell Bissex, MS, RD & Liz Weiss, MS, RD, Cofounders, MealMakeoverMoms.com
Photo Courtesy of: © Susan Stevenson – Fotolia.com