SCALLOPS: Florida Calico Scallops
See also: Calico Scallops; Scallop Entrees; Scallop Appetizer Recipes
The scallop, like the oyster, is a bivalve mollusk. However, unlike the oyster that attaches itself to a bed, the scallop moves about by swimming. The swimming action is accomplished by the shells snapping together which forces the water to propel it. This technique has developed an oversized muscle called the "eye." This sweet-flavored muscle is the only part of the scallop eaten by Americans, but Europeans eat the entire shucked scallop.

The name, "scallop," aptly describes the fluted edges of its fan-shaped shell. The shells of young scallops are beautiful. The outside shell is delicately colored pink and white and the inside is pearly-white with a satiny luster. Calico scallop meats vary from creamy white to light tan or pink. They measure about 1/2 inch to 3/4 inch in diameter.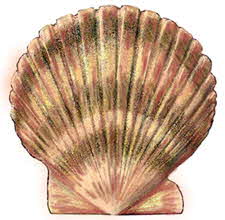 In Florida, Calico scallops (Argopecten gibbus) are harvested with trawls and dredges in the deep offshore waters of Florida's Atlantic and northern Gulf coasts. Unlike oysters and clams, scallops do not close their shells tightly and will lose moisture unless shucked soon after harvesting.

SCALLOPS ATTRIBUTES
Firm texture, sweet, delicate flavor. Extra lean.

HOW MUCH TO BUY
Shucked Scallops: 1/3 pound per serving.

BUYING, STORAGE AND HANDLING
• Remember to purchase seafood last and keep it cold during the trip home.

• Scallops have a fresh odor when freshly shucked.

• Freshly shucked scallops should have very little liquid in the package

• Scallop meat should have a creamy white, light tan or pinkish color and firm texture.

• Refrigerate shellfish in a sealed container on ice or in the coldest part of the refrigerator.

• Store shucked scallops up to two days.
PREPARATION
• Keep raw and cooked seafood separate to prevent bacterial cross-contamination.

• After handling raw seafood thoroughly wash knives, cutting surfaces, sponges and your hands with hot soapy water.

• Always marinate seafood in the refrigerator.

• Discard marinade; it contains raw juices which may harbor bacteria.

• When marinade is needed for basting reserve a portion before adding raw seafood.

COOKING
• Scallops are cooked when the center is opaque and white; test by cutting in half.

• Overcooking will cause toughness and weight loss.

• Depending on their size, scallops cook in 3 to 4 minutes, by any method.

• Choose recipes with little or no added fat so the full flavor of the sweet, light meat will not be masked.

NUTRITION
Nutritional values for approximately 4 ounces (114 grams) of raw, edible portions
• Calories 100
• Calories From Fat 10
• Total Fat 1 g
• Saturated Fat 0 g
• Cholesterol 40 mg
• Sodium 185 mg
• Total Carbohydrates 3 g
• Protein 18 g
Florida Department of Agriculture and Consumer Services www.fl-seafood.com