Efficient Kitchen Layouts for Restaurants
While running a restaurant is more than just serving food, but the serving of food remains the #1 priority on the restaurant's mission list. Therefore, the kitchen must be designed to function efficiently. A poorly designed kitchen will decrease productivity, increase wait time and contribute to employee turn-over. The quality of food and fast services merely relies on the efficiency of a well properly outfitted kitchen.
Here are some of our recommendations for designing a good kitchen layout:
Separate your kitchen activities into self-contained work-areas.
For examples: in the cook-line: frying stations, cooking stations, grill stations, cold food stations, dish-up areas and preparation stations, storage areas, dish-wash stations, cleaning stations and etc. Make sure that ingredients, tools, equipments, supplies and preserving storage are within easy reach in the kitchen.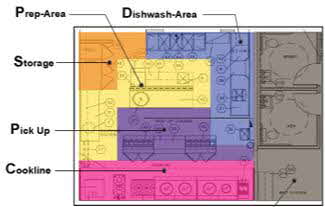 Locate these work areas with reasoning.
Think about how each station relate and connect with each other, keeping in mind the steps of food prepping and making. Imagine if you were the staff and the chef, visualize how they work together as a team.
Sketch out traffic maps, minimizing unnecessary steps and criss-crossing paths.
Create L-shape or triangle shape work stations.
L-shape or triangle shape layouts give quick access to prep tables, sinks and cooking equipments. Straight line layouts will only work for assembly line-style preparation and cooking.
Place the cook-line and dish up area closer to the dining room to shorten the delivery route.
Allow adequate aisles and open space.
People need to pass, carts need to be rolled, shelving moved, large buckets wheeled, and tray lifted.
Keeping in mind with all of the aspects mentioned above, we will produce the following drawings(blueprints) for your restaurant project:
2D Kitchen Layout--Including: cookline(s), dish up area(s), prep-station(s), dish washing station,dry storage area(s), walk-in refrigerator(s) and freezer(s).
2D Utility Area Layout -- Including: ADA compliant restrooms, office and storage space for cleaning supplies & paper goods.
Article contributed by Projects A to Z, a complete Restaurant Design Firm in Northern California.