TASTE TESTS PROVES U.S. PEANUTS ARE TOPS
Imagine you've just sampled an ounce of chopped peanuts. You chew them between your molars and savor the taste. Were they peanuty? Were they sweet? These are just a couple of the 18 attributes that 300 European peanut consumers were asked to rate after tasting peanut samples from three different countries. The purpose of the taste test was to determine the European consumers' responses to samples of peanuts grown in Argentina, China, and the United States.

Timothy H. Sanders, research leader of the ARS Market Quality and Handling Research Unit in Raleigh, North Carolina, coordinated the project, which is called the European Peanut Consumer Research Study. The findings will be used as a marketing tool for U.S. peanut exporters.
Healthy peanut plants with roots
Photo by David Nance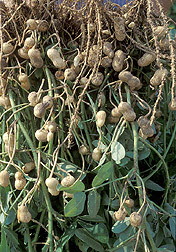 To eliminate any bias in the samples used in the test, a commercial expert panel, highly trained in taste analysis, rated the flavor quality of about 20 samples from each of the three countries. Then, three samples—one high quality, one medium quality, and one low quality—were selected from each country for use in the consumer taste test.

The Europeans who later participated in the 2-day test were selected based on their answers during telephone screenings and from questionnaires they'd completed. One of the criteria was that they be regular buyers and consumers of peanuts or peanut products.

"The data showed that there would be virtually no likelihood of consumer complaints about the flavor of U.S. peanuts," said Sanders. But European consumers would likely identify about 70 percent of Chinese lots and 40 percent of Argentine lots as problematic, the data showed.

"The largest U.S. export market is Europe. So we conducted the taste tests with 100 peanut consumers from each of three cities—London, Berlin, and Amsterdam," says Sanders. About 4.1 billion pounds of peanuts were produced by U.S. growers during the 2003-2004 marketing year. Of that, about 12.5 percent—516 million pounds—were exported.
The effort aids the U.S. peanut industry by providing overseas buyers of U.S. peanuts with information to support their current purchase levels and to develop future buyers.

In June of this year, Sanders traveled to Berlin for the largest snack and peanut trade show event in Europe—SNACKEX. He presented the consumer taste-test findings to snack-trade manufacturers, importers, exporters, suppliers, distributors, and brokers.

"The reason we're presenting this data in Europe is to assure international buyers that although U.S. peanuts come at a premium price, they also come as a premium product," says Sanders.
Timothy H. Sanders is in the USDA-ARS Market Quality and Handling Research Unit, North Carolina State University, Raleigh, NC

By Rosalie Marion Bliss (August, 2005)
Agricultural Research Service, USDA: ( www.ars.usda.gov )
ARS is the U.S. Department of Agriculture's chief scientific research agency.