Summer Grilling Tips
Kevin Roberts, Star Of Food Network's "The Next Food Network Star"; Book Author And Chef Shares His Favorite Grilling Tips And Recipes For Father's Day
(Recipes Below)
Whether it's a father's day poolside party or backyard barbecue, summertime is the perfect season for outdoor entertaining. While the mercury is rising, turn up the heat and flavor with grilling recipes made easy thanks to tips and recipes from Kevin Roberts, who debuts June 1st as one of ten finalists (selected from a field of 4,000) on The Next Food Network Star, a show where participants compete for their very own Food Network show. The Next Food Network Star continues to air on Sundays at 10 PM EST for a total of nine episodes.

One of Roberts' trademarks is his love of hot sauce. He puts Frank's RedHot on everything, especially when grilling. Here are some tips and recipes sure to spice-up any summertime bash adapted from his cookbooks, "Munchies" and "Kissing in the Kitchen," and the menu at his popular San Diego-based restaurant, East Village Tavern and Bowl.
Roberts recommends a few tips when preparing for outdoor grilling:
• Start by identifying the perfect mix of family and friends that will create a lively summer party.

• Figure out how much food and drink you'll need for the number of people you have invited.

• Plan your menu, but keep it simple. There's no need to do all the cooking yourself. If you're having more than a few guests, ask each one to bring a dish.

• Food should be ready early so people don't have to wait for it to come off the grill.

• Serve a crowd pleaser. Chicken wings are the #1 appetizer on restaurant menus*. You can enjoy the great flavor of restaurant quality wings at home. With a simple two-step process: just grill your wings and toss them in Frank's® RedHot®. Fresh, saucy, crispy! Or serve that familiar Buffalo flavor in Buffalo Burgers by adding Frank's RedHot to ground beef before grilling.

• Use a meat thermometer to check the internal temperature to make sure all meats are cooked thoroughly.

• Use recyclable goods to reduce cleanup without harming the environment.

• Remember, safety first! If you are using an outdoor grill, keep children away from it and always keep a bucket of water handy.

• Put Frank's RedHot on everything. It is the perfect condiment on any of your summer favorites from chicken and ribs to burgers and hotdogs. It's even great on salads and slaws.
"Whether you're grilling for a family reunion or planning a dinner for two, adding that delicious Buffalo flavor helps make any grilling recipe a success," explains Kevin Roberts. "I use Frank's on everything. That spicy, tangy, buttery flavor you get at restaurants is easily duplicated at home with Frank's RedHot and goes great with anything you can put on your grill; burgers, chicken, ribs and even corn on the cob!"

Try these simple recipes at your next barbecue bash: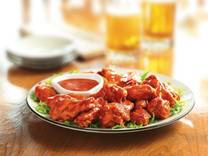 BUFFALO CHICKEN WINGS
Prep Time:10 min.
Cook Time:20 min.
Makes-6 to 8 servings

Ingredients
• 2 1/2-lbs. chicken wing pieces
• ¾ cup FRANK'S® REDHOT® Buffalo Wing Sauce


Directions
1. BAKE wings in foil-lined pan at 500°F on lowest oven rack for 20 to 25 min. until crispy, turning once.

2. TOSS wings in Buffalo Wing Sauce to coat.

Tip: You may substitute 1/2 cup FRANK'S® REDHOT® Sauce mixed with 1/3 cup melted butter for the Buffalo Wing Sauce.

Alternate Cooking Directions:
Deep-fry at 375°F for 10 min.
Broil 6-inches from heat 15 to 20 min., turning once.
Grill over medium heat 20 to 25 min., turning often.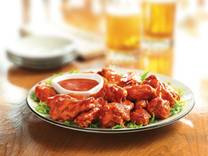 BUFFALO GRILLED STEAK
Prep Time: 5 min.
Cook Time: 15 min.
Marinate Time: 1 hour
Makes 4 servings

Ingredients
• 4 (1 inch thick) bone-in or boneless loin steaks
• 2/3 cup FRANK'S® REDHOT® Original Cayenne Pepper Sauce or Frank's® REDHOT® Buffalo Wing Sauce


Directions
1. MARINATE steaks in Frank's RedHot Sauce in deep dish. Cover and refrigerate 1 to 3 hours. Drain and season as desired.

2. GRILL steaks over high direct heat, about 15 min. for medium-rare, turning once.

3. LET steaks rest 10 min. before slicing. Splash on more Frank's RedHot Sauce to taste.

Tip: Substitute other tender steaks such as boneless sirloin, flank or flat iron steak.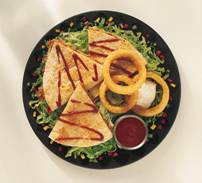 BUFFALO CHICKEN QUESADILLAS
Assemble the quesadillas ahead of time, then grill 'over drinks' just before serving.
Prep Time: 5 minutes
Cook Time: 5 minutes
Makes 4 servings

Ingredients
• 2 cups finely diced cooked chicken
• 1/2 cup Frank's® REDHOT® Buffalo Wing Sauce
• 2 cups shredded Monterey Jack cheese
• 8 (8 inch) flour tortillas
• Blue cheese salad dressing


Directions
1. Toss chicken with Buffalo Wing Sauce in bowl.

2. Layer chicken mixture and cheese on 4 tortillas, dividing evenly. Top each with second tortilla.

3. Cook about 3 to 5 minutes on an electric grill pan or barbecue grill until toasted and cheese melts. Cut into quarters to serve. Serve with blue cheese salad dressing and additional Buffalo Wing Sauce.

Tip: You may substitute 1/3 cup FRANK'S® REDHOT® Cayenne Pepper Sauce mixed with 3 Tbsp. melted butter.

The distinctive flavor of Frank's RedHot is also why people keep coming back for more. It all started 80 years ago when Jacob Frank, the founder of Frank's RedHot, began experimenting with Louisiana Sunlongs, a special strain of cayenne peppers that offers a zesty full-bodied taste. The unique essence of these special cayenne peppers is then combined with vinegar and spices, and aged to perfection. The result is history: the perfect blend of heat and flavor for almost a century and counting. Frank's RedHot is the secret ingredient used in the original Buffalo Wing created in Buffalo, NY in 1964. For more recipes with the original Buffalo flavor of Frank's RedHot log onto www.franksredhot.com.

FRENCH'S Foods, a division of Reckitt Benckiser Inc., the maker of FRANK'S® REDHOT® Cayenne Pepper Sauce, is a leading manufacturer, marketer, and distributor of food and household products. Some other well known, trusted household names in the Reckitt Benckiser Inc. family of food products include CATTLEMEN'S® Barbecue Sauce, FRENCH'S® mustards, FRENCH'S® French Fried Onions and FRENCH'S® Potato Stix.

*Mintel Menu Insights 2006