See Also: History of the Westin St. Francis
St. Francis Hotel Sugar Castle
The Historic Westin St. Francis Proudly Presents San Francisco's Largest Holiday Sugar Castle
Created By Executive Pastry Chef Jean Francois Houdr̩ - On Display Nov 28 РJan 2, 2009
SAN FRANCISCO, CA – November 6, 2007 – The Westin St. Francis Executive Pastry Chef, Jean-François Houdré, aka "King of the Castle," is diligently working day and night perfecting his signature 12-feet rotating holiday Sugar Castle, to be unveiled in the Tower Lobby of The Westin St. Francis on Friday, November 28.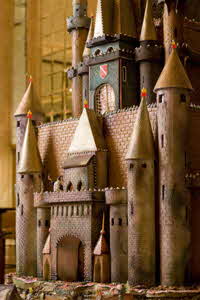 Originally created in 2005, this magnificent Sugar Castle continually grows larger and more spectacular each year. Resembling a French Chateau, Chef Houdre was inspired while traveling around the southwestern region of France. The 100% edible castle is made of pastillage (a combination of powdered sugar, egg whites and gelatin dough), gingerbread, sugar, molasses, flour and candy. Weighing over 1200 pounds, this magical castle features more than 20 grand circular towers, approximately 30 rooms, illuminated windows, and is surrounded by a quaint village and a running train.

"The creation of the Sugar Castle is truly a labor of love," says Chef Houdré. "Each year, I begin working on it two months in advance, adding more special touches and details each time. This year's version promises to be the best yet!"
The inspiration to create this one-of-a-kind, grandiose Sugar Castle came from Chef Houdré's trip to Europe with his family in 2005. While traveling around Bordeaux, the Houdré family visited many remarkable châteaux, particularly Mont Saint Michel and La Cité de Carcassonne, which is one of Europe's most complete examples of a fortified abbey.
As the Houdré family toured these extravagant castles, his son Henri, age ten, and his daughter, Claudia, age eight, were able to experience an earlier time when royalty once occupied these magnificent castles centuries ago. From that experience, the children were able to convince their father that he must build a sugar castle at The Westin St. Francis to rival the royal castles in France and display it for children to visit during the holiday season.

The castle is entirely edible, and is comprised of the following sumptuous ingredients:
• 70 pounds of gingerbread
• 130 pounds of pastillage (Powdered sugar, egg white and gelatin dough)
• 40 pounds of pulled and bubble sugar
• Royal icing made of 300 pounds of sugar and egg whites
• 40 pounds of molasses
• 60 pounds of flour
• 100 pounds of assorted Christmas Candy
• And 360 hours of hard work

About The Westin St. Francis
Opened more than a century ago on March 21, 1904, The Westin St. Francis still today maintains its preeminence as San Francisco's center of social, theatrical and business life. Renowned for luxury accommodations and excellent service, The Westin St. Francis continues to preserve its rich history and elegance while enhancing the guest experience with fresh, innovative concepts. The only hotel located on San Francisco's famous Union Square, The Westin St. Francis is just steps from world class shopping, dining, theatres and art galleries. For reservations and more information, call (415) 397-7000, toll free (800) 917-7458 or visit www.westinstfrancis.com.