HAM UP YOUR EASTER 101
Whether it's your first time preparing the Easter meal or you've been doing it for years, the National Pork Board offers a variety of tips to make this holiday meal as easy as 1-2-3. From finding ways to spice up your Easter menu to choosing the perfect ham and learning carving basics, these tasty ideas cover everything you need to make your Easter celebration a success!

STEP #1: SHAKE UP YOUR RECIPE

This year, the National Pork Board suggests a Glazed Ham with Pineapple-Raisin Sauce. This memorable recipe will be sure to impress your guests this Easter and beyond. It offers a balanced combination of bold flavors, including sweet pineapple, tangy balsamic, tart raisins and of course, smoky ham! In fact, one of this year's hot culinary trends is bold flavors and Americans are incorporating them into their cuisines more than ever!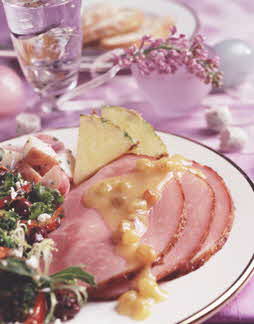 STEP #2: HUNTING FOR A HAM

Whether you're an amateur or an aficionado, these ham hints will help you get acquainted with the varieties available in the meat case.

• Have a Bone to Pick?
All varieties of ham are either bone-in or boneless. While bone-in hams are traditionally seen as more elegant and boneless are considered easier to serve, both have the same great taste. Bone-in hams are available in a variety of shapes – whole, shank or butt half – and typically serve two to three people per pound. Boneless hams, identified on the label, keep for several weeks in their original packaging in the refrigerator. A boneless ham will yield roughly four to five servings per pound.

• To Heat, or Not to Heat
Almost all hams come fully cooked, as noted on the label. If desired, cooked hams can be served directly from the refrigerator without heating. To serve hot, simply unwrap and heat to an internal temperature of 140 degrees Fahrenheit. Uncooked hams should be heated to an internal temperature of 160 degrees Fahrenheit. Uncooked hams typically require 20-30 minutes per pound at 350 degrees Fahrenheit.
• Choose your Cure
Hams are labeled according to the amount of water added to them during the curing process, which is a simple method of preserving meat. Hams are either dry-cured with salt and spices rubbed into the meat's surface, or wet-cured with a brine solution. A basic brine is a mix of water, salt and sugar and is used to enhance taste and texture by driving extra moisture into the meat.


STEP #3: THE ART OF CARVING

For some cooks, the task of carving an Easter ham may seem daunting. The National Pork Board has a carving tutorial video at www.TheOtherWhiteMeat.com to make these sharp skills a little less overwhelming.

Whether you decide to serve a bone-in or boneless ham, having the right equipment – a high-quality carving knife with a recently sharpened edge – will allow for smooth slicing. Here's how to cut it:

• Bone-in Ham
Begin carving by placing the ham on its side on a firm cutting surface. Steady the ham with a large fork and cut several long slices off the thin side and turn the ham onto its flat, cut surface. Make perpendicular slices to the leg bone to the desired thickness. To loosen the slices, cut horizontally along the leg bone, removing each slice with the fork.

• Boneless Ham
Cut several long slices off the side. Turn the ham onto its cut surface and slice to the desired thickness.


TASTY TIP: FRESHEN UP THOSE LEFTOVERS

Cooking once and eating twice allows you to save time in the kitchen and spend more time with your family while still providing a nutritious and enjoyable meal. According to research from the NPD Group, the No. 1 sandwich in America is the ham sandwich, so be sure to wow your entire family by spicing up the traditional ham sandwich – try our recipes for the Parisian Favorite Ham Sandwich or the Aegean Island Ham Sandwich. Want to go beyond the sandwich? Check out the creative leftover ideas for soups, pasta, omelets and more.
More Ham Recipes
For these and more recipes, carving tips and information, visit TheOtherWhiteMeat.com.