Tilapia Stuffed With Crabmeat
See also: Tilapia Facts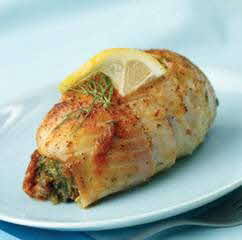 INGREDIENTS
· 2 tablespoons unsalted butter
· 1 small onion, finely chopped
· 1 celery rib, minced
· ¼ cup chopped parsley
· ½ cup plain breadcrumbs
· 8 ounces crabmeat, picked over
· 1 tablespoon lemon juice
· 1/8 tablespoon cayenne
· 4, 8-ounce tilapia fillets
· 1 teaspoon paprika
· Dill sprigs and lemon slices

DIRECTIONS
• Preheat oven to 400°F.

• Lightly oil 9 x13-inch ovenproof dish.

• Melt butter in skillet,

• Add onion and celery and sauté until soft and stir in parsley.

• Remove skillet from heat and stir in breadcrumbs, crabmeat, lemon juice and cayenne.

• Divide crabmeat mixture among fillets and roll up and hold together with toothpicks.

• Place fish seam side down in baking dish.

• Sprinkle paprika over fish and bake for 20 to 25 minutes.

• Garnish with dill and lemon before serving.

* Recipe courtesy of Maria Zoitas, creator of 'Maria's Homemade' line of prepared food sold exclusively at Westside Market NYC www.wmarketnyc.com/