THYME SEARED SCALLOPS WITH RED GRAPEFRUIT AVOCADO SALAD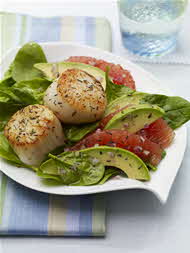 The addition of scallops turns a traditional grapefruit and avocado salad into an elegant entrée. The antioxidant duo of thyme leaves and a hint of ginger gives this dish an unexpected, yet perfect pairing of flavors.
Prep Time: 20 minutes
Cook Time: 8 minutes
Makes 4 servings.

Ingredients
• 2 large red grapefruits, peeled and sectioned (1½ cups)
• 1 medium avocado, peeled and thinly sliced
• 2 tablespoons champagne or white wine vinegar
• 2 tablespoons olive oil, divided
• 2 teaspoons minced shallot
• 1½ teaspoons McCormick Thyme Leaves, divided
• 1/4 plus 1/8 teaspoon salt, divided
• 1/8 teaspoon McCormick Ground Black Pepper
• 1/2 teaspoon McCormick Ground Ginger
• 1 pound large sea scallops (about 12)
• 1 package (5 ounces) baby spinach leaves


Directions
TOSS grapefruit segments and avocado slices in medium bowl. Set aside. Mix vinegar, 1 tablespoon of the olive oil, shallot, 1/2 teaspoon of the thyme, 1/8 teaspoon of the salt and pepper in small bowl with wire whisk until well blended. Set aside.

MIX remaining 1 teaspoon thyme, ginger and remaining 1/4 teaspoon salt in small bowl. Coat scallops evenly on both sides with spice mixture. Heat remaining 1 tablespoon oil in large skillet on medium-high heat. Add scallops; cook 6 to 8 minutes or until scallops are golden brown, turning once.

DIVIDE spinach evenly among 4 serving plates. Top each with scallops and grapefruit mixture. Drizzle each salad with about 1 tablespoon of dressing. Serve immediately.

Nutrition Information Per One Serving: 287 Calories, Fat 15g, Protein 21g, Carbohydrates 17g, Cholesterol 36mg, Sodium 490mg, Fiber 5g

Recipe courtesy of McCormick® - Spices & Seasonings - www.mccormick.com/