SUMMERTIME SHRIMP AND RICE BOWLS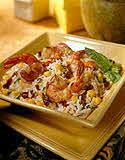 "Rice to the Rescue!" Recipe Contest Grand Prize Winner - Edwina Gadsby
Yield: Makes 4 servings.

Ingredients
• 1 pound medium shrimp, peeled and deveined
• 3 cups hot cooked rice
• 1 11-ounce can corn, drained
• 1/4 cup drained and chopped sun-dried tomatoes in oil, reserving oil
• 1 cup shredded Italian cheese blend
• 1/4 cup plus 1 tablespoon slivered fresh basil leaves
• 1/2 teaspoon salt

Directions
Thread shrimp on skewers. To broil in oven, place on broiler rack coated with cooking spray. Brush shrimp with oil reserved from tomatoes. Broil 4 to 5 inches from heat 4 minutes.

To cook on outdoor grill, brush shrimp with reserved oil from tomatoes. Cook skewered shrimp over hot coals 4 minutes. Turn and brush with additional oil. Grill 4 to 5 minutes or until done. In large bowl, combine rice, corn, tomatoes, cheese, basil and salt. Spoon into individual bowls. Top rice with shrimp.

Nutrition Facts
Calories 447
Total Fat 11g
Cholesterol 241mg
Sodium 912mg
Total Carbohydrate 53g
Dietary Fiber 4g
Protein 37g

USA Rice Federation (www.usarice.com)