SHRIMP & CREAMY SPINACH-FETA RICE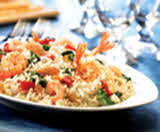 "Rice to the Rescue!" Recipe Contest Grand Prize Winner- Gloria Bradley
Yield: Makes 6 servings.

Ingredients
• 2 tablespoons vegetable oil
• 1/2 cup golden raisins
• 1/2 cup julienne strips red bell pepper
• 1 6-ounce package fresh baby spinach leaves
• 1/2 teaspoon salt
• 1/2 teaspoon pepper
• 1 pound cooked, peeled, deveined medium shrimp, thawed if frozen
• 3 cups hot cooked medium or long grain white rice
• 1 cup crumbled feta cheese with basil & tomato (or plain)
• Toasted pine nuts or sliced almonds (optional)

Directions
Heat oil in large nonstick skillet over medium heat.

Add raisins and bell pepper; sauté 1 minute.
Add spinach, salt and pepper; toss until spinach is just wilted.
Add shrimp; sauté 30 seconds.
Add hot rice and feta cheese.

Toss all ingredients until heated through and cheese is soft and creamy.

Top with toasted nuts, if desired.

Nutrition Facts
Calories 297
Total Fat 11g
Cholesterol 74mg
Sodium 540mg
Total Carbohydrate 36g
Dietary Fiber 4g
Protein 15g

USA Rice Federation (www.usarice.com)