GRILLED SALMON WITH WALLA WALLA SWEET ONION AND ORANGE SALSA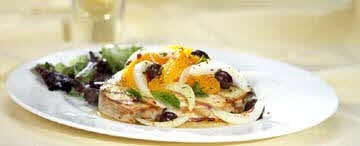 Serves 4

INGREDIENTS
• 3 large navel oranges, peeled, remove white pith, and section
• 1 medium Walla Walla Sweet Onion, sliced into thin slices
• 8 oil cured black olives, pitted and coarsely chopped
• 2 tablespoons fresh mint
• Pinch of red pepper flakes
• 4 tablespoons extra virgin olive oil
• 2-teaspoon fresh lemon juice

• 4½-inch thick salmon steaks, (about 6 ounces each)
• ½ teaspoon salt
• ½ teaspoon freshly ground black pepper

DIRECTIONS
SALSA:
1. Mix together oranges, onions, olives, mint, and red pepper flakes 3 tablespoons olive oil and lemon juice in a medium size bowl. Set aside.


GRILL THE SALMON:
1. Preheat the grill to medium high heat.

2. Brush salmon with remaining olive oil and sprinkle with salt and pepper.

3. Grill for 2 to 3 minutes on each side, just until cooked through. Transfer to serving plates, top with Walla Walla Sweet Onion Salsa and serve.

Also good with swordfish.

by Joan Deccio Wickham
Recipe & photo - Walla Walla Sweet Onion Marketing Committee