SALMON & RICE PACKETS WITH FENNEL, ORANGE & RAISINS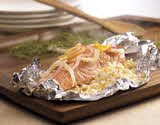 "Rice to the Rescue!" Recipe Contest Winner - David Dahlman
Yield: Makes 4 servings.

Ingredients
• 3 cups cooked medium or long grain brown rice
• 1/4 cup golden raisins
• 1 teaspoon grated orange zest
• 1/2 teaspoon salt
• 1/4 teaspoon pepper
• 4 (6-ounce each) salmon fillets, skin removed
• 1 medium fresh fennel bulb, trimmed, cored and thinly sliced crosswise
• 1 small red onion, thinly sliced in 8 rounds
• Juice of 1 orange
• 2 tablespoons olive oil

Directions
Preheat broiler.

Combine rice, raisins, orange zest, 1/2 teaspoon salt and 1/4 teaspoon pepper in medium bowl.

Place 4 sheets of foil (12" x 12") on large baking sheet.

Spoon equal amounts of rice mixture in center of each sheet. Top rice with salmon; sprinkle lightly with additional salt and pepper. Top salmon with equal amounts of fennel and arrange onion slices over fennel.

Squeeze juice from one orange evenly over all and drizzle with oil.

Wrap foil over contents and pinch ends tightly to form individual packets; broil 6 to 7 inches from heat source 20 minutes or until salmon is opaque in center.

Nutrition Facts
Calories 600
Total Fat 27g
Cholesterol 100mg
Sodium 430mg
Total Carbohydrate 50g
Dietary Fiber 5g
Protein 39g

USA Rice Federation (www.usarice.com)