SPICY SAUTEED SHRIMP & CREAMY CHEESE GRITS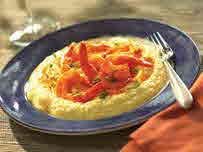 SPICY SAUTEED SHRIMP
Prep Time: 5 min.
Cook Time: 7 min.
Makes 4 servings
Ingredients
• 2 Tbsp. butter
• 1 Tbsp. olive oil
• 1 clove garlic, minced
• 1 lb. large shrimp, peeled & deveined (tails on optional)
• 1/4 cup FRANK'S REDHOT Original Cayenne Pepper Sauce
• 2 Tbsp. lemon juice

Directions
1. HEAT butter and oil in large skillet. Saute garlic 1 min. until golden.

2. STIR in shrimp. Saute 3 to 5 min. until shrimp turn pink.

3. ADD Frank's RedHot Sauce and lemon juice. Cook 1 min. until sauce is bubbly and shrimp are well coated.

4. SERVE shrimp with Creamy Cheese Grits.

CREAMY CHEESE GRITS
Prep Time: 5 min.
Cook Time: about 5 min.
Makes 4 to 6 servings
Ingredients
• 1 cup heavy cream
• 1 cup chicken broth or water
• 1/2 tsp. salt
• 1 small clove garlic, pressed
• 1/2 cup yellow grits
• 1/4 cup grated Parmesan cheese

Directions
1. HEAT heavy cream, broth, salt and garlic to a boil in 3-qt. saucepan. Gradually whisk in grits, whisking constantly. Heat to a boil.

2. SIMMER grits over medium-low heat about 2 min. until thickened, stirring often.

3. STIR in cheese. Cook until heated through. Serve with Spicy Sauteed Shrimp.
Tip: If grits become too thick, stir in additional cream or broth to thin, and heat through.

Recipe courtesy of Frank's Redhot Cayenne Pepper Sauce