Culinary Tours in Paris - Culinary Tours in France
Paris Culinary Treasures, Tea, Chocolate, Basking In the Bounties of the Pays Basque, Paris Off the Beaten Path
PARIS CULINARY TREASURES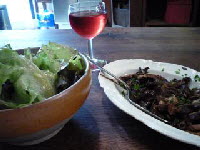 Sally Peabody's French Culinary tours have been featured by Bonjour Paris, the San Diego Union Tribune, International Travel News, The Guardian and Maison de la France.

Do you love delectably memorable Parisian bistros? Enjoy shopping like a Parisian in the fabulous Paris food markets? Want to taste the best French pastries, macarons, bread, chocolates, cheeses, charcuterie, wines, and more? Voilã! Seven days to immerse yourself in the culinary riches of Paris. A day-trip to Champagne is also included.
Spring and Fall.

Visit the Paris Culinary Tours website for complete details

This unique "Paris Culinary Treasures" tour takes up to 8 guests to visit the city's best food markets, gourmet boutiques and bistros, winebars and personable culinary artisans. Sally Peabody, writer and Paris-expert, leads this seven-day eating, tasting and cultural adventure through Paris.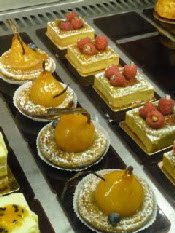 Sally's guests access and enjoy both classic French and multi-cultural culinary treasures of this incomparable city. We dine in gourmet bistros, winebars, or restaurants chosen for their ambience and excellent regional cuisine. We taste wines, cheese, chocolates, sample the best French pastry. And we visit top neighborhoods across Paris on and off the beaten path. This tour offers exceptional value and provides access to the very best that Paris has to offer.

Highlights include:
• Daily multi-course gourmet meal or copious 'tasting'
• Wine-tasting with the proprietor of one of Paris' most delightful winebars
• Gastronomic lunch at an elite culinary school
• Tasting of regional French cheeses and wines with a master Fromager
• Touring a renowned Patissière
• Tasting of and talk about artisanal French Chocolates
• Exploring fascinating Paris quarters including the Marais, St. Germain, Montmartre, Batignolles, the rue de Martyrs and the Viaduc des Arts
• Visits to numerous charming French and multi-cultural markets & market-streets
• A day trip to Reims to tour Champagne cellars and visit Reims' glorious & historic Cathedral of Notre Dame
Visit the Paris Culinary Tours website for complete details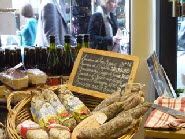 Tour Components:
Included: Eight nights in three-star hotel with daily buffet breakfast (double occupancy, single supplement additional). Daily lunch or dinner. All tour admissions, tastings, metro passes, van to Reims, expert guide included.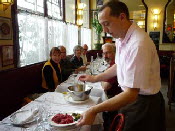 Not included: Airfare, airport transfers, wine, beverages, snacks, or meals other than noted above or included in meals or tastings.
Travel insurance not included. Guests are urged to purchase insurance.

Detailed Itinerary provided via mail or email upon request.
Your Great Days In Paris
Tea.. Chocolate... Paris!
A delicious week of sipping, savoring, and tasting
all over the French Capital
Springtime in Paris? Undeniably fabulous. Enjoying the best tea, chocolates and patisserie in Paris? Even better! Sally Peabody, Paris-expert and author of Paris: Tea Capital of the World, invites you to join her for a delectably memorable Paris experience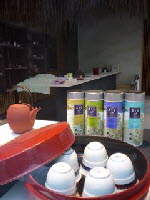 We'll visit the best tea salons, patissiers and chocolate shops the 'city of light' has to offer, enjoy tastings of premium teas and artisanal chocolates, talk with engaging experts about fine teas, about pairing tea and chocolates and much more!

Each day we will visit at least one of Paris' top tea salons and tea boutiques. We'll also visit the best patisseries and chocolatiers who artfully incorporate fine tea into their prime products. We'll tour a quintessential Paris marché volant and explore top quartiers. We'll even take you to the best sources to shop for tea accessories.

Highlights of this seven-day Paris Tea and Chocolate tour include:
• Tea and patisserie at the venerable Mariage Frères
• Tea at the exquisite La Maison de Trois Thés
• A tasting of premium, first-flush Japanese Green Teas at Chajin
• Visits to top patisseries and chocolatiers all over Paris
• A talk about and tasting of artisanal chocolates
• Visits to diverse tea boutiques with the best teas and tisanes

Included: Selected teas and tastings. Metro tickets or passes. Expert guide assuring you a truly memorable experience.
Not included: airfare, meals or accommodation

Questions? Contact: Sally Peabody, Your Great Days in Paris,
Telephone: 781 391 6183 Email: [email protected]
Your Great Days in Paris
Sally Peabody's New Basque Country Culinary Tour

Basking in the Bounties of the Pays Basque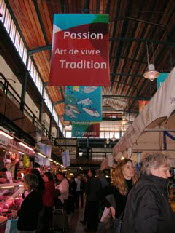 Distinctively delicious regional cuisine, unique culture & architecture, a splendidly varied countryside including world-class seaside resorts, atmospheric fishing villages, surf-fringed cliffs, sandy beaches, deep-green mountain valleys, tranquil rural villages of charm, vivacious small cities replete with medieval quarters, cathedrals & cobbled streets. It's all there for your enjoyment in the French & Spanish Pays Basque. This nine-day trip will provide guests with a fine taste of this delightful region. In France we will visit Biarritz, Bayonne, St. Jean Pied du Port, St. Jean de Luz, & Espelette. In Spain, we visit San Sebastian, Spain's 'hottest' culinary mecca.

Highlights of the trip include:
• A guided visit to Les Halles in Biarritz with a teaching-chef. After learning about the uniquely Basque seafood, Jambon de Bayonne, Espelette peppers, ewes milk cheese, wines, gateaux Basque & myriad other goodies, we will have a cooking 'party' to prepare a delicious lunch with fresh foods from the market.
• Exploring vibrant markets & interesting quarters in Bayonne, St. Jean Pied du Port, St. Jean de Luz and San Sebastian.
• Visits to culinary artisans, including a tour of a chocolatier's production atelier to learn about the origins of French chocolate in the Bayonne/Biarritz area. We will visit a vigneron to taste & learn about the region's distinctive Irrouleguy wines. And we will enjoy a dégustation of Basque cheese & charcuterie.
• In San Sebastian, one evening will be devoted to a 'tapas crawl' where we will dine and drink in the legendary tapas bars in the gothic 'old quarter'.
• Shopping for Basque table linens, espadrilles, pottery & other regional treasures.

This Basque Country Culinary tour is limited to six guests. Included: hotel double occupancy (two nights in Paris, four in Bayonne, three in San Sebastian). Daily breakfast. Meals & tastings as detailed in itinerary. Round-trip flight or train Paris-Bayonne. Transportation in the Pays Basque in a comfortable minivan with a knowledgeable local driver-guide who a fluent English-speaker.
Optional: during our free day in San Sebastian guests can visit nearby Bilbao or book lunch at one of the famed Michelin-starred restaurants.
Tour Itinerary and agreement on http://www.yourgreatdaysinparis.com
Your Great Days in Paris
Paris "Off The Beaten Path" Tour
A New Four-Day 'Foodie' Exploration of 'Hot' Paris Quarters Led by Sally Peabody of Your Great Days in Paris

Love Paris but you've seen the Louvre, explored the Marais and St. Germain? Looked all over the Latin Quarter? Visited the Tower and cruised on the Seine? Sally's new "Paris Off the Beaten Path" will take inquisitive Francophiles who love food, markets, culinary artisans and vibrant Paris quarters, to visit four fascinating 'emerging' neighborhoods full of all the things we all love about Paris and more.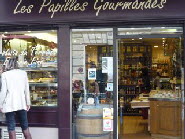 Experience dynamic up-and-coming Parisian quarters including 'So-Pi' and the Rue de Martyrs (South of Pigalle) in the 9th, village-like Batignolles in the 17th, plus two arty, multicultural quarters, Faubourg St. Antoine/Aligre in the 11th and Belleville in the 19th. Gourmet magazine's September 2008 issue was devoted entirely to Paris and to the 'hip new Paris' of the 9th, 11th, 12th, 13th, and 19th arrondissements. Sally will take you there.

Guests will enjoy leisurely lunches in charming bistros, perhaps even in a Moroccan restaurant. We will experience markets and market streets full of top quality food shops and vendors selling fabulous French foods enhanced by the redolent flavors of Paris' robust immigrant communities. We will enjoy a stroll along the atmospheric Canal St. Martin and explore charming parks like the Parc de Belleville, Parc Monceau, Parc de Batignolles, the Promenade Plantee, and a hidden gem, the tiny verdant park dedicated to master woodworker Louis Majorelle. We will visit remarkable little shops selling edible floral essences for health, traditional French decorative hardware, linens, tablewares, handmade jewelry and much more.

This is a tour for adventurous adults who love Paris and who enjoy food and wine, and who treasure opportunities to explore off-the-beaten-path quarters with so much to offer visitors who seek the 'real Paris'. The tour is an active one involving substantial amounts of walking and use of the public transit system.

Included: Guiding, lunch with wine daily, metro tickets/passes.

The tour is offered without hotel accommodations assuming that guests may wish to participate as part of a longer trip to Paris. If guests want to book hotel through Your Great Days in Paris, we use the Grand Hotel des Balcons, a comfortable, simple, two star hotel, 3 rue Casimir Delavigne, in the 6th just steps from Odeon and from the verdant Luxembourg Gardens. Great location. We also use the Hotel Saint Paul Rive Gauche, a charming three star in the 6th near the Grand Hotel des Balcons. We can advise on short stay apartment rentals, or, other hotel options.

Interested? Find out more at http://www.yourgreatdaysinparis.com

Call Sally at 781 391 6183, or email [email protected]