INDIAN SPICED SHRIMP ON COCONUT-PINEAPPLE RICE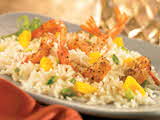 "Rice to the Rescue!" Recipe Contest Winner- Jamie Miller
Yield: Makes 6 servings.

Ingredients
• 1/2 cup water
• 1 14-ounce can light coconut milk
• 1 8-ounce can pineapple tidbits or crushed pineapple, drained, juice reserved
• 1½ teaspoons salt, divided
• 1 cup uncooked long grain white rice
• 1 tablespoon garam masala*
• 1 teaspoon pepper
• 1½ pounds medium shrimp, peeled and deveined
• 2 tablespoons olive oil
• 1/2 cup plus 2 tablespoons chopped green onions, divided

Directions
Bring water, coconut milk, 1/4 cup reserved pineapple juice, and 1/2 teaspoon salt to a boil in medium saucepan over medium-high heat.

Stir in rice; cover and reduce heat to simmer. Cook 15 minutes, or until liquid is absorbed. Stir in pineapple and 1/2 cup green onions.

Meanwhile, in large bowl, combine remaining 1 teaspoon salt, garam masala and pepper. Add shrimp and saute just until cooked through, about 4 to 5 minutes.

Spoon rice onto platter; top with shrimp and remaining 2 tablespoons green onions.
*Garam masala is an Indian spice blend found in most supermarkets. If unavailable, substitute curry powder.


Nutrition Facts
Calories 475
Total Fat 24g
Cholesterol 172mg
Sodium 769mg
Total Carbohydrate 39g
Dietary Fiber 3g
Protein 28g

USA Rice Federation (www.usarice.com)