GARLIC SHRIMP & GARLIC POTATOES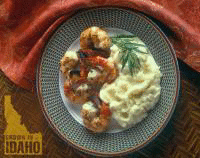 Yield: Serves 6

INGREDIENTS:
Garlic Mashed Potatoes
• 3 lbs. Idaho® potatoes
• 1 cup Heavy cream
• 4 oz. Butter
• 1 tsp. Minced fresh garlic
• Salt & Pepper to taste

Grilled Garlic Shrimp
• 1 1/2 lbs. Tiger shrimp
• 3 Tbsp. Extra virgin olive oil
• 1/2 cup Mixed herbs (basil, tarragon, oregano)
• 1/2 tsp. Fresh Garlic juice
• 1/2 tsp. Shallots
• Salt & Pepper

DIRECTIONS:
Garlic Mashed Potatoes
Peel Idaho potatoes, cut into cubes and boil in salted water until soft. Drain all the water.

Grate potatoes and put into mixing bowl. Slowly whip until smooth.

In medium sauce pan, heat cream and butter until slightly warm.

Add cream and butter to the potatoes and mix for 2 minutes. Add garlic, salt and pepper and mix for 1 minute.

Grilled Garlic Shrimp
Peel shrimp & sprinkle with salt & pepper. In a mixing bowl, combine herbs, garlic, shallots and shrimp.

Grill for 2 minuter or until pink on each side.

Bake at 350° for 2 minutes or until brown.

Idaho Potato Commission: www.idahopotato.com
Executive Chef Felix Rubio, Carroll O'Conner's Place, Los Angeles, California