FLORIDA BLUE CRAB PORTABELLA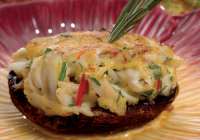 Yield: 12 servings
Ingredients
• 1/3 cup mayonnaise
• 1 egg
• 2 tablespoons milk
• 1 teaspoon Worcestershire sauce
• 1 teaspoon Dijon mustard
• 2 dashes hot pepper sauce
• 1/4 teaspoon pepper
• 1/8 teaspoon paprika
• 1 pound Florida blue crab meat, drained, shell pieces removed
• 2 tablespoons cracker meal
• 12 fresh Florida Portabella mushrooms, 2-3 inch diameter
• 2 tablespoons prepared Italian dressing
• Paprika

Directions
Preheat oven to 375 degrees F.

Combine first eight ingredients in a medium bowl.
Gently fold in crabmeat and cracker meal.

Remove mushroom stems; brush caps with Italian dressing and place in a baking pan stem-side up.

Fill mushrooms with crab mixture and sprinkle with paprika.

Bake for 10 to 12 minutes or until crab meat begins to brown.

Nutritional Value Per Serving:
Calories 130, Calories From Fat 62, Total Fat 7g, Saturated Fat 1g, Trans Fatty Acid 0, Cholesterol 58mg, Total Carbohydrates 6g, Protein 10g, Omega 3 Fatty Acid 0g

Courtesy of Florida Department of Agriculture and Consumer Services' Bureau of Seafood and Aquaculture Marketing