Anne Thornton
(Pastry Chef)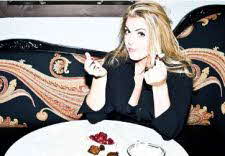 As an expert pastry chef, Anne Thornton shares indulgent recipes for tantalizing treats on her "In the Kitchen" Food Network cooking series, Dessert First with Anne Thornton. Anne demystifies and simplifies the world of pastry and dessert by showing viewers the ins and outs to no-fear baking. From flaky pastries to ice cream cake, Anne's approachable techniques prove that any home cook can create impressive desserts.

Born in San Antonio and raised in Cleveland, Anne fell in love with food at a very young age while traveling throughout Europe with her family. She spent many childhood days in the kitchen alongside her grandmother, Nonnie, who she credits as her true culinary inspiration and where she gets her passion for baking. At age eight, Anne successfully made her first pie crust, and by college, she served up Sunday supper every week to her friends on the football team.

Anne graduated from Miami University in Oxford, Ohio, with degrees in finance and philosophy. Shortly after college, she lived in California and then Chicago while working for Apple Computer, Inc. Anne left Chicago and moved to New York City to pursue her dream of becoming a chef. Soon after enrolling in the Institute of Culinary Education, Anne landed a job in culinary production where she gained behind-the-scenes media skills – a glimpse into her future at Food Network. Anne also worked as a personal chef for celebrity and high-profile clients before joining New York's highly acclaimed restaurant, The Waverly Inn, where she honed her skills as a pastry chef and assistant general manager working under notable chef John DeLucie. In 2009, Anne made the move to the exclusive New York restaurant, Hotel Griffou, where she worked as executive pastry chef and event coordinator until June 2010.

In her spare time, Anne volunteers for City Harvest's Operation Frontline, a nutrition education and financial planning program, and also writes for LunchNYC, a project that brings nutritional information to families about their kid's school lunches and how they can improve their diets. Besides cooking and baking, Anne enjoys sailing, writing, football, fashion, interior design and visiting organic farms. Anne currently lives in New York City.

You can follow Anne on:
Twitter: www.twitter.com/anne_thornton