See Also Articles:
Versatile Fennel; Fennel Buying; Spice of the Angels
FENNEL
(Foeniculum vulgare)
Fennel seeds:
1 pound = about 5 1/3 cups
1 Tablespoon = 3/16 ounce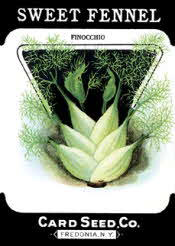 Virtually all of the fennel plant is edible: the roots and stalks can be cooked and eaten as a vegetable; the stems chopped and added to salads; the bulb eaten raw or cooked; chopped leaves used in soups, with fish or added to salads; fennel seeds are used in pickles, liqueurs, tomato sauces and sausages; fennel oil is used in candy, liqueur and perfume.

Often mistaken for celery, this vegetable has a different taste that is quite similar to anise or licorice. Fennel is often grown for its seeds and oil from the leaves and used for various food flavorings.

Fennel is generally described as having a sweet aromatic flavor and aroma that is similar to Anise (licorice-like) but less intense. It has a slight menthol undertone with musty/green flavor notes.

AVAILABILITY AND SELECTION Fennel is available year round, with a peak season in fall and winter. Select fennel that are firm, have straight stalks, and green leaves. The bulbs should be compact in shape with the stalks fairly close and not too spread out. Avoid fennel that is discolored or show signs of splitting.

STORAGE AND PREPARATION Fennel is more delicate than celery and will dry out quickly. Before storing, cut the stalks off, wrap the stalks separately from the bulb in plastic bags, and store in the crisper section of the refrigerator. Fennel should keep for three to four days, but it is best to use it as soon as possible.

Wash fennel stalks thoroughly and use in soups and stews. The feathery leaves can be used as an herb or garnish. The fennel bulb must be washed, trimmed at the base, and then can be sliced as called for in the recipes.