See also: Farm Raised Catfish; Catfish Trivia; Catfish Recipes
SWAI FISH
Have you come across Swai Fish yet on a restaurant menu, or at your local supermarket? If not, it is bound to happen soon. In 2009 it made its way into the top ten most consumed fish in the U.S. and has moved up the list each year since.

Popularity of Swai Grows Despite Dirty Politics
According to data from National Marine Fisheries Service the Top 10 consumed seafoods in the US (as determined by weight) placed Pangasius (the scientific species name for Swai fish) in the #10 position in 2009, then in 2010 it moved into 9th place, and in 2011 Swai was #6 while American Catfish (Channel Catfish) slipped to 7th place. This upward trend has American Catfish farmers very worried, in fact, they have been battling against Swai since 2000.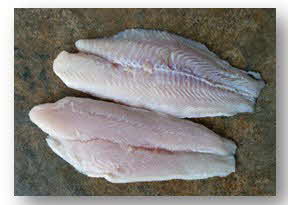 MARKETING NAMES
Swai is a Vietnamese species of catfish and is marketed in the U.S. as "Swai", "Striped Pangasius", "Tra", or "Pangasius". Wikipedia refers to it as "Iridescent Shark ", and it is sometimes incorrectly marketed as "Basa" or "Panga", which is another similar species of catfish from Vietnam.

TASTE AND NUTRITION
Swai has a moist, sweet taste with a milder flavor and more delicate texture than our native Channel Catfish and it is considered more approachable for people who do not normally like catfish. The flesh is white or light-pink colored and turns white after cooking. The highest quality fillets have white flesh. Light pink or beige colored flesh is of average quality and it dominates the market. Avoid purchasing fillets which are yellow as they are poor quality.

Nutritionally speaking, they have very similar specs, with Channel Catfish having a slightly higher fat content, but even so, both fish are considered to be a low-fat fish.

What is driving the growth of Swai compared to Channel Catfish? The lower cost and what many consider to be a superior flavor. Blind tests between Channel Catfish & Swai have shown that the average person prefers Swai. This is probably due to the inherent flavor of Channel Catfish, which many people find to be a little "gamey", "muddy", or "dirty" tasting. Of course, Southerner's would disagree, saying that this unique flavor is what distinguishes catfish from other fish.

HISTORY OF SWAI IN THE U.S.
Because of these factors the popularity of Swai has steadily grown over the past decade, despite the dirty tricks and aggressive attempts of the American Catfish Lobby to keep it out of the country. Smear campaigns, half-truths, propaganda, and protectionist politics have all been thrown at Swai in order to discourage and/or hinder its popularity. But to no avail.

A brief history of the war between these two species of catfish shows that the battle began in 2000. Back then Swai was being sold as Catfish in the US (because it is a species of Catfish) and the American Catfish Lobby saw that it was taking a good portion of their sales away. So they lobbied Congress and successfully implemented a law stating that only American grown Channel Catfish can be called Catfish in the U.S. (even though there are 2000 species of Catfish). This greatly slowed the growth of Swai for several years as they had to jump through a lot of hoops and red tape to remarket their product from being called "Catfish" to calling it something else.

In 2008 the Catfish Lobby began pushing for inspections of seafood to be done by the Department of Agriculture instead of the FDA. This change would tie-up imports of Swai for years and is clearly an act of protectionism to eliminate their competition. And who would pay for the millions/billions of dollars it would take our government to implement this change? The American public! The American Catfish Lobby is playing politics in such a way that the American public will end up paying part of the bill for their battle against their competition.

At the end of the day, try both Channel Catfish and Swai, and then eat the one which you like best, or even better, eat the one you are in the mood for. Both are good fish.
By Chef David Buchanan – www.chefs-resources.com