PENNE PASTA WITH PINE NUTS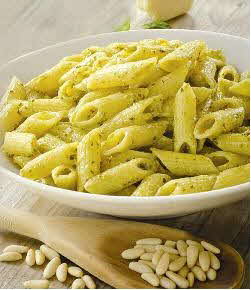 This simple pasta recipe is quick and easy to whip up, and the combination of ingredients makes it a heartwarming and flavorful meal that is sure to be a dinner favorite in your house.
Fun fact: It is suggested that eating two tablespoons of olive oil daily may reduce the risk of coronary heart disease due to monounsaturated fat. This recipe calls for more than 1 cup of EVOO, so you're sure to get your suggested daily serving in this healthy pasta dish!
4 servings
INGREDIENTS
· 16 ounces of penne pasta
· 2 cloves of grated garlic
· 1 cup of Iberia Extra Virgin Olive Oil
· 1 teaspoon of oregano
· ¼ cup of grated Romano or Parmesan cheese
· 1 ounce of pine nuts sauteed in Iberia Extra Virgin Olive Oil
· 1 teaspoon of salt to boil the pasta
· 1 tablespoon of Iberia Extra Virgin Olive Oil to boil the pasta
· Salt and pepper to taste

DIRECTIONS
Boil 2 liters of water with a teaspoon of salt and olive oil, then add the pasta and cook for 10 minutes.

Drain and add grated garlic, oregano, cheese, pine nuts and salt/pepper to taste.

Prior to serving, add the cup of Iberia Extra Virgin Olive Oil.

Simple and delicious!

Recipe and photo courtesy of Iberia
Iberia Extra Virgin Olive Oil is made from 100% Extra Virgin Olive Oil and hand-selected, harvested olives processed in Spain. The Spanish olives used are extracted using a "first cold press" process, which provides the rich aroma and flavor quality – ideal for using on salads, pasta, fish, meat dishes and marinades.