New Orleans Seafood Cookbook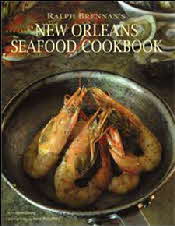 by Ralph Brennan

CLICK HERE to purchase direcly from the authors website

Any visitor to New Orleans has surely tasted and loved a seafood gumbo, a shrimp remoulade, or any number of the innovative seafood dishes turned out nightly by the city's talented cadre of creative restaurant chefs. Now, home cooks and chefs everywhere can bring these vibrant flavors home, thanks to third-generation restaurateur, Ralph Brennan, and his culinary team, who have created the definitive guide to New Orleans seafood with their new cookbook, Ralph Brennan's New Orleans Seafood Cookbook. Four years in the making (including a nine-month hiatus in the aftermath of Hurricane Katrina), this beautiful, full-color cookbook was created by the perfect storm of Louisiana talent including Ralph Brennan, his five talented chefs (representing Red Fish Grill, BACCO, Ralph's on the Park, and Ralph Brennan's Jazz Kitchen), veteran writer and editor Gene Bourg, and acclaimed photographer Kerri McCaffety.

Ralph Brennan's New Orleans Seafood Cookbook is set apart from other seafood-focused cookbooks by a section called "A Seafood Cook's Manual." This comprehensive guide to Gulf seafood covers everything from finfish, crabs, crawfish, shrimp, oysters, frog legs, and even alligator. Brennan and his staff also provide extensive tips and advice, and illustrated step-by-step instructions on handling, storing, and preparing raw seafood. A complete list of premier local and national vendors of seafood, spices, condiments, and cocktails is included to provide home chefs with the key ingredients needed to create the authentic flavors and tastes of New Orleans.

For regions and seasons in which typical New Orleans fare is unavailable, the book provides recommendations on substituting regional specialties native to the home cook's territory. This novel approach allows home cooks to combine the flavors of New Orleans with the freshest, local ingredients— a time-honored principle of Ralph Brennan's kitchens.
(Vissi d'Arte Books)

Ralph Brennan is a third-generation restaurateur. Known affectionately by his culinary staff as "The Taster-in-Chief", Ralph entered the family business in the early 1980's after a successful stint as a CPA with Price Waterhouse & Company. A long-time food service industry advocate, Ralph served as the 1995-1996 Chairman and President of the National Restaurant Association (NRA). An NRA Director since 1984, Brennan also served as the 2000-2001 Chairman of the NRA Educational Foundation. In 1997, the International Foodservice Manufacturers Association (IFMA) honored Ralph Brennan with its highest honor—the prestigious Gold Plate Operator of the Year Award. Ralph is a Past President of the Louisiana Restaurant Association and the New Orleans Restaurant Association. He was the chairman of the board of New Orleans' Ernest N. Morial Convention Center from 1998-2007. Ralph remains active on the board of New Orleans' Children's Hospital and served as chairman in 2003-2004. He and his wife Susan are the proud parents of Kathryn, Patrick, and Kristen, and live in New Orleans.