I Want My Dinner Now!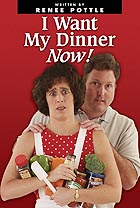 Renee Pottle
When you are in a hurry, it is tempting to use packaged foods to throw together a quick meal.
'I Want My Dinner Now'
shows you how to put together quick, nutritious, great tasting meals in a hurry, without resorting to packaged foods all the time. Included here are lists of what to stock in your pantry, the freezer and refrigerator, and suggested weekly menus. The recipes are varied, from Pizza Burgers to Pacific Rim Salmon, Szechwan Beef to Chicken and Dumplings. One of the thoughtful features of this cookbook, is that all recipes are written for both 2 and 6 servings.
There is also a section of recipes for utilizing several kitchen appliances effectively and creatively - rice cookers, slow cookers, electric grills and microwaves.
We all have occasions when we need to make a meal in a hurry - in
'I Want My Dinner Now,'
Renee Pottle shows you how. Everything in this book is concisely written and easily understood. This is not gourmet cooking, it just is quick, good tasting meals for those in a hurry.