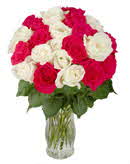 These elegant blooms make a wonderful floral gift. Your selection includes 12 Red and 12 White Premium Long Stem Roses (18 - 22 inches and 22 - 26 inches) accented with greenery.
All Fresh Cut Flower selections are wrapped in decorative cellophane and carefully hand packed on ice in an attractive, fully insulated gift box, and shipped via Overnight Courier. A personal message card, care instructions and floral preservative are also included.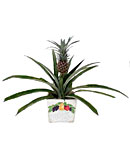 Pineapple Plant!
Send them something different! This unique gift arrives in a six inch fruit planter. Each Pineapple plant is shipped 16 to 20 inches tall with fruit!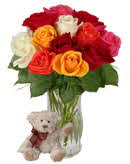 Twelve of our Long Stem Mixed Roses and a Russ teddy bear (colors will vary). Also included are a quality message card, floral preservative and flower care information. Flowers come elegantly wrapped in a decorative sleeve and are hand packed in an attractive gift box.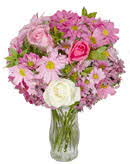 Whether its a Wedding, First Date or First Kiss our beautiful Anniversary Bouquet is sure to be a hit! This wonderful assortment consists of Four Roses in shades from Pink to White, Chrysanthemums, and is accented with Myrtle and Tiki Greens.

CLICK HERE to go right to our GrowerFlowers website.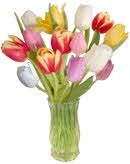 This wonderful selection contains 15 Assorted Tulips in a variety of colors. Please keep in mind that these beautiful spring flowers do have a shorter life span. A glass vase can be selected during check out.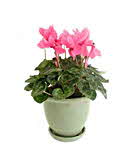 Give a living gift this year to the one you love. Our beautiful Cyclamen is shipped with buds and blooms and arrives in a 6 inch cachepot for your enjoyment.