see also: Mahi-Mahi Recipes
MAHI-MAHI

(mahi mahi)
Mahi-Mahi is the Hawaiian name for dolphin (the fish NOT the marine mammal!), also known as Dorado.

Most restaurants use the name Mahi-mahi rather than dolphin, so as not to have any confusion with the marine mammal of the same name.

Mahi-mahi have an iridescent blue body, and yellowish bellies; they lose their color rapidly once out of the water. Their flesh is very low fat (less than 1%), with a firm moist texture and mild, almost sweet flavor. Mahi-mahi are found in warm waters around the world.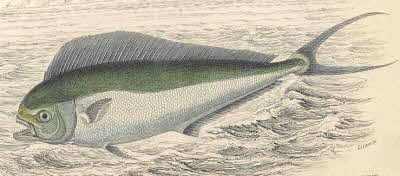 Japan catches more than 50% of the world's catch of Mahi-Mahi.

The largest dolphin caught with rod and reel weighed 87 pounds. It was caught on September 25, 1976 off of Costa Rica.

Please feel free to link to any pages of FoodReference.com from your website.
For permission to use any of this content please E-mail: [email protected]
All contents are copyright © 1990 - 2023 James T. Ehler and www.FoodReference.com unless otherwise noted.
All rights reserved. You may copy and use portions of this website for non-commercial, personal use only.
Any other use of these materials without prior written authorization is not very nice and violates the copyright.
Please take the time to request permission.


FOOD TRIVIA and FOOD FACTS
FoodReference.com (since 1999)
FOOD TRIVIA and FOOD FACTS SECTION