Authentic Tomato Salsa
By Jennifer A. Wickes - Other Articles by Jennifer
Recipe below
Quite a few years ago, my husband and I were in search of a jarred tomato salsa that we could enjoy. The jars we had encountered, at that point, were too tomatoey, too chemically heated, too pureed...too blah!

Call me "slow," but it suddenly occurred to me that we could make our own salsa! And to make matters even better, my husband's stepmother is Mexican American!

As true to anyone who cooks really well, whenever you ask them for tips on how to make something, they always tell you to throw in a bunch of this, a pinch of that. No real measurements! At first, I was a bit surprised that she did not give me exact measurements, but as she said, it depended on my taste. Did I enjoy heat? Garlic? Did I like mine pureed, or chunky? The options were numerous.

So, the journey began! With my list of ingredients, I began making salsa batch after salsa batch trying to find one that fit our taste. We wanted something that was chunky, with a fresh taste. It seemed simple enough, but it was still quite a challenge.

I researched the science behind developing a recipe like this. When I read that adding some honey to a spicy recipe helps balance the flavors, I believed it. The concept made sense, but I was still skeptible. Honey in a tomato salsa? But I added it into one of our batches anyway.

When making Mexican-style dishes, one needs to utilize some of the traditional herbs and spices. For example, cumin and cilantro! Cumin is a seed that is related to parsley. Despite this seed originally coming from India and Iran, it is seen throughout Mexican dishes. It has a distinct bitter flavor. It can be found in your spice section of your local grocery store.

Cilantro, sometimes referred to as fresh coriander, is a green leafy herb usually found in your produce section. It has an extremely pungent flavor and looks a lot like Italian flat-leaf parsley.

Tomatillos are used in Mexican cooking as well. Tomatillos are also know as Mexican Green Tomatoes. They look like smaller green tomatoes with a paper-like skin, similar to ones found on onions, covering the tomato. Tomatillos have a very tart flavor. There is really no substitute, and it can be found in Latin American markets or in grocery stores where their is a strong hispanic population. Before using, the paper skin is peeled off. Sometimes, you can find canned crushed tomatillos in the international aisle of your grocery store. If all you can find is the crushed canned tomatillos, use about 1/4 cup per tomatillo in your recipe.
When looking for garlic, it is important that you pick a tight head. When looking at the stem part of your head, make sure there is no black there. That indicates that there is mold on you clove! Another important thing about garlic is that stronger garlic flavor is actually in smaller cloves! When the cloves get too large, their flavor turns bitter. Unfortunately, a lot of people associate this bitter flavor as garlic flavor when it is a sign of aging cloves.

If you have never worked with hot peppers, before, otherwise known as chiles, the one piece of advice I can offer is to use caution. The oils in hot peppers are the most concentrated in the membranes inside the peppers, where the seeds are attached. Some people, like myself, can get a burning sensation on their fingers when cutting them. I would wear gloves, or possibly use the plastic bag from your produce section at the market as a glove. Most of the time, recipes usually do not utilize the seeds. You can scrape them out with your knife, or if you cut off the stem, you can use a vegetable peeler to remove the seeds and membrane. Also, like garlic, use the size of your chiles as a guide. Smaller chiles pack larger heat! So, if you are looking for a milder kick, than a larger chile is where you should be looking, not the other way around.
My favorite tomato is the vine-ripened tomato. You can smell the tomatoes and they actually smell like tomatoes! Remember never to store your tomatoes in the refrigerator. Cold temperatures cause the tomatoes to turn mealy. I like to place mine in a bowl on the counter.

Other traditional items found in Mexican dishes are limes, onions, and avocados.

Approximately twenty salsa batches later, I came up with this recipe. It was a hit at one of our barbecues...fresh, chunky with no chemical taste or the flavor of tomato paste. And as I was told when I was given the original idea for the recipe, play with it.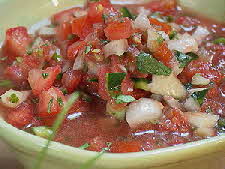 Tomato Salsa RECIPE
Makes 4 cups.
• 4 tomatillos
• 4 vine-ripened tomatoes
• 1/2 yellow onion
• 1 celery rib, thinly sliced
• 2 jalapeño peppers
• 4 garlic cloves
• 1 bunch cilantro
• 1-tablespoon cumin
• 1-tablespoon honey
• 1-teaspoon salt
• 1-tablespoon lime juice

1.) Peel tomatillos (like an onion). Put in a pot and bring to a boil. Boil 10 minutes.

2.) Mince tomatoes, onions, celery, jalapeños (if extra heat is desired, use the veins and seeds), garlic and cilantro.

3.) Crush tomatillos and add to tomato mixture.

4.) Add salt, cumin and lime juice.

5.) Mix thoroughly.

6.) Let the salsa sit over night.

Serve with chips, eggs, grilled meats, tacos, burritos or fajitas.

For a more traditional taste, slice tortillas. Baste them will olive oil and sprinkle kosher salt over them. Bake at 400 for 5 - 10 minutes. Homemade tortilla chips!

Jennifer A. Wickes is a freelance food writer, recipe developer and cookbook reviewer. She has written five eBooks, and has had numerous articles, reviews and recipes in printed publications, as well as on-line. Her work can be found in The Library Journal, Cook's Country magazine, Ernest & Julio Gallo's Turning Leaf Wine brochure, Bon Appetit, Better Homes and Garden and much more. She is working on her first cookbook. For more information about Jennifer or her work, please visit her home page:
http://home.comcast.net/~culinaryjen/Home.html