YELLOWFIN TUNA
See also: Tuna Recipes
LET'S TALK TUNA
Let's talk tuna. No, we're not talking about your mother's tuna casserole or your favorite tuna salad recipe here. We're talking about Florida's succulent yellowfin tuna, a beautifully colored fish prized worldwide for its full flavor and firm, lean meat. Tuna, or "thunnos" as the ancient Greeks called it, has been a culinary favorite for centuries. One of mankind's most ancient and honored foods, it was pursued by fishermen hundreds of years before the time of Christ. Ancient Greeks considered this elusive fish a great delicacy and admired it for its large size as well as its fierce fight when caught. The Incas and other South American civilizations along the Pacific favored this same catch, which they called Xatunkama.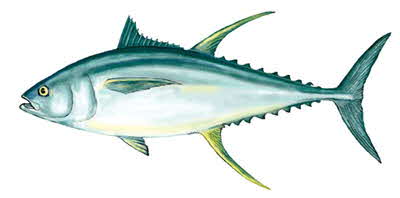 As a member of the very large mackerel (Scombridae) family, the yellowfin tuna (Thunnus albacares) is one of the world's most important food fish. The torpedo-shaped yellowfin tuna gets its name from its bright yellow dorsal and anal fins on a streamlined blue-black body that turns to a silvery white at its belly. It is built for speed with a rounded body, sharply pointed nose, tapering tail and crescent-shaped fins, all contributing to its reputation as a rapid swimmer.
Yellowfin tuna is found in most of the world ocean's temperate (warmer) waters, including the eastern and western Pacific Ocean and in the Atlantic Ocean as far north as the Bay of Biscay. It is pelagic (living in open oceans or seas rather than waters adjacent to land or inland waters) and restlessly roams the deeper offshore waters of Florida's Gulf and Atlantic Coasts. Traveling in schools, this tuna feeds primarily on fish, squid, crab larvae and shrimp. Yellowfin tuna can weigh up to 300 pounds but average weights in commercial catches are between twenty and one hundred pounds. In Florida, yellowfin is commercially harvested exclusively with hook-and-line which makes the fishery "dolphin-safe."
Yellowfin tuna is a versatile fish which is consumed raw, cooked, smoked and canned. It is widely used in raw fish dishes and is a prized species for the sashimi market. Unlike most fish species which have white flesh, yellowfin tuna has flesh coloration that varies from pink in smaller fish to deeper red in larger fish but becomes ivory white to tan when cooked. Larger fish typically have a higher fat content than smaller fish, and this is a desirable attribute for raw and broiled fish products, as well as for broiling. Fresh yellowfin undergoes oxidation of pigmented protein when exposed to air changing the meat from a red to a brown color in a matter of days. For this reason, yellowfin is usually not loined or filleted until shortly before use.
With its mild flavor and year-round availability, yellowfin adapts well to a myriad of recipes from a simple grilled filet with herb butter to that spicy blackened Cajun entrée complete with red beans and rice.

YELLOW FIN TUNA ATTRIBUTES
Firm, light meat with full flavor. Lean fish.

SUBSTITUTE SPECIES
Swordfish, Mahi-Mahi, King Mackerel.

HOW MUCH TO BUY
• Whole or drawn fish: 3/4 to 1 pound per serving.
• Dressed or cleaned fish: 1/2 pound per serving.
• Fillets or steaks: 1/4 to 1/3 pound per serving.

BUYING, STORAGE AND HANDLING
Remember to purchase seafood last and keep it cold during the trip home.
Fresh whole fish should have:
-- A shiny surface with tightly adhering scales.
-- Gills that are deep red or pink, free of slime, mucus and off-odor.
-- Clean shiny belly cavity with no cuts or protruding bones.
-- A mild aroma, similar to the ocean.

Fresh steaks, fillets and loins should have:
-- A translucent look.
-- Flesh that is firm and not separating.
-- A mild odor, similar to the ocean.
-- No discoloration.
-- Packaging that keeps them from being bent in an unnatural position.

PREPARATION
• Keep raw and cooked seafood separate to prevent bacterial cross-contamination.

• After handling raw seafood thoroughly wash knives, cutting surfaces, sponges and your hands with hot soapy water.

• Always marinate seafood in the refrigerator.

• Discard marinade; it contains raw juices which may harbor bacteria.

• When marinade is needed for basting reserve a portion before adding raw seafood.

COOKING
• The Yellow Fin Tuna's light and mild-flavored meat can be cooked in a variety of ways: smoked, grilled, blackened, baked, broiled or sauteed; overcooking reduces moisture and flavor.

• The general rule is 10 minutes per inch of thickness, at the thickest part of the fillet or steak, at 400-450 degrees F.

• If fish is cooked in parchment, foil or a sauce, add 5 minutes to the total cooking time.

• Fillets less than 1/2 inch thick do not need to be turned during cooking.

• Fish cooks quickly. Do not overcook.

• Fish is done when the flesh becomes opaque and flakes easily when tested with a fork.

• Poaching, steaming, baking, broiling, sautéing, microwaving are excellent low-fat cooking methods, if you do not add high fat ingredients.

• Marinate in your favorite salad dressing prior to cooking.

• Broil, bake, steam or microwave, then cube and add to pasta or salad greens for a delicious salad.

• Broil or grill with lime-butter and seasoned salt.

• Oil the grill to prevent fish from sticking.

• Bake whole fish with a crab or shrimp stuffing.

• Add leftover fish in broken pieces to salads, soups or sauces.

NUTRITION
Nutritional values for approximately 4 ounces (114 grams) of raw, edible portions
• Calories 130
• Calories From Fat 20
• Total Fat 2 g
• Saturated Fat .5 g
• Cholesterol 50 mg
• Sodium 70 mg
• Total Carbohydrates 0 g
• Protein 26 g

Florida Department of Agriculture and Consumer Services www.fl-seafood.com