STRIPED BASS
See also: Striped Bass Recipes
An interesting result of crossing or hybridizing similar animals and plants is increased growth rate, size, and general vigor of offspring. Hybrid striped bass is produced when a striped bass (Morone saxatilis) and white bass (Morone chrysops) are crossed to take advantage of these traits. Roe and milt are mixed in the laboratory to produce vigorous fingerlings. A restocking effort by public agencies released hybrid striped bass in public waters, and they grow well in farm ponds, tanks and raceways. A voracious predator, farmed fish must be satisfied with a high-protein, grain-based feed. Harvest weight is 11 1/2 to 21 1/2 pounds.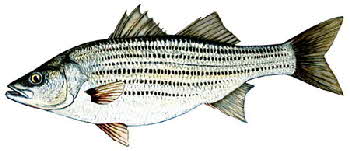 Hybrid striped bass are sold live or as a fresh, gutted product. They have a striking appearance: bright silver scales, sleek shape, white belly and black, broken lateral lines. The flesh is mild, firm, fine-grained and the flavor is similar to freshwater bass. Florida-produced hybrid striped bass are sold as whole, fresh product to "white tablecloth" restaurants across the country and in Europe. Product is delivered by air freight to guarantee freshness.

STRIPED BASS ATTRIBUTES
Firm texture, moist and flaky, white meat with mild flavor. Extra lean fish.

SUBSTITUTE SPECIES
Snapper, Tilapia.

HOW MUCH TO BUY
• Whole or drawn fish: 3/4 to 1 pound per serving.

• Dressed or cleaned fish: 1/2 pound per serving.

• Fillets or steaks: 1/4 to 1/3 pound per serving.

BUYING, STORAGE AND HANDLING
Remember to purchase seafood last and keep it cold during the trip home.
Fresh whole fish should have:
-- A shiny surface with tightly adhering scales.
-- Gills that are deep red or pink, free of slime, mucus and off-odor.
-- Clean shiny belly cavity with no cuts or protruding bones.
-- A mild aroma, similar to the ocean.

Fresh steaks, fillets and loins should have:
-- A translucent look.
-- Flesh that is firm and not separating.
-- A mild odor, similar to the ocean.
-- No discoloration.
-- Packaging that keeps them from being bent in an unnatural position.

PREPARATION
• Keep raw and cooked seafood separate to prevent bacterial cross-contamination.

• After handling raw seafood thoroughly wash knives, cutting surfaces, sponges and your hands with hot soapy water.

• Always marinate seafood in the refrigerator.

• Discard marinade; it contains raw juices which may harbor bacteria.

• When marinade is needed for basting reserve a portion before adding raw seafood.

COOKING
• Striped Bass can be fried, grilled, broiled and blackened. Grilling is a popular cooking method using skin-on fillets and an oiled, grilling basket to hold the fine-grained meat together.

• The general rule is 10 minutes per inch of thickness, at the thickest part of the fillet or steak, at 400-450 degrees F.

• If fish is cooked in parchment, foil or a sauce, add 5 minutes to the total cooking time.

• Fillets less than 1/2 inch thick do not need to be turned during cooking.

• Fish cooks quickly. Do not overcook.

• Fish is done when the flesh becomes opaque and flakes easily when tested with a fork.

• Poaching, steaming, baking, broiling, sautéing, microwaving are excellent low-fat cooking methods, if you do not add high fat ingredients.

• Marinate in your favorite salad dressing prior to cooking.

• Broil, bake, steam or microwave, then cube and add to pasta or salad greens for a delicious salad.

• Broil or grill with lime-butter and seasoned salt.

• Oil the grill to prevent fish from sticking.

• Bake whole fish with a crab or shrimp stuffing.

• Add leftover fish in broken pieces to salads, soups or sauces.

NUTRITION
Nutritional values for approximately 4 ounces (114 grams) of raw, edible portions
• Calories 110
• Calories From Fat 25
• Total Fat 2.5 g
• Saturated Fat .5 g
• Cholesterol 90 mg
• Sodium 80 mg
• Total Carbohydrates 0 g
• Protein 20 g
Florida Department of Agriculture and Consumer Services www.fl-seafood.com