SNAPPER
See also: Snapper Recipes
There are 17 types of snappers harvested from the Gulf of Mexico, Caribbean and South Atlantic waters. Two of the most commonly harvested snappers found in seafood markets and restaurants are red snapper and yellowtail snapper.
RED SNAPPER
Red Snapper is one of the best known and Florida waters yield the finest red snapper in the nation. With a fine textured, mild white meat, Florida red snapper is perfect for almost any finfish recipe and will delight your gastronomic senses. Whether baked, broiled, grilled or fried, this mild-flavored fish always delivers a gratifying culinary experience and is also a very healthy food source. Four ounces of uncooked red snapper contain just 110 calories, merely one gram of fat, only 45 grams of cholesterol and no saturated fat. Red snapper is equal in protein to shrimp (23 grams) and also contains calcium and iron.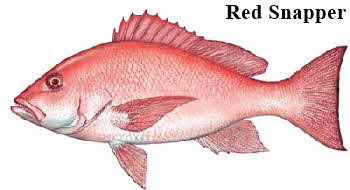 Vibrant red snapper are hard to miss when they are being unloaded onto docks from fishing fleets. Their rosy-red hue is another attribute to the many bright and colorful fish in the Gulf of Mexico. Not only pretty to look at, red snapper are very tasty and highly popular among seafood fans. It is one of the best known and most desired deep sea delicacies.

A prized food fish, red snapper are caught commercially as well as recreationally. Red snapper are in season the first 10 days of every month. A reef fish that commonly inhabits waters from 30 to 200 feet, red snapper can also be caught as deep as 300 feet on occasion. They keep relatively close to the bottom, and inhabit rocky ledges, ridges, and artificial reefs, including offshore and shipwrecks.
Red snapper is a firm-textured fish with moist, white flesh that is delicate and mild. It can be served broiled, baked, steamed, poached, fried or grilled. Red snapper responds well to most cooking methods. Try baking whole red snapper stuffed with fresh herbs and seasonings. Red snapper is excellent for grilling, and spring is the perfect time to fire up the barbecue. Lemon, butter and fresh chili peppers are great ways to season red snapper. Another idea is to serve red snapper with tropical fruits for a delicious springtime treat.
When purchasing whole red snapper, look for a shiny surface with tightly adhering scales and gills that are deep red or pink. Also watch for a clean, shiny belly cavity with no cuts and a mild aroma, similar to the ocean. Fresh steaks, fillets and loins should have a translucent look and flesh that is firm and not separating. There should be no discoloration and proper packaging that keeps the fish from being bent in an unnatural position.

YELLOWTAIL SNAPPER
Yellowtail Snapper's name is descriptive in itself but the scientific name of the yellowtail snapper roughly translates to "swift-swimming golden fish." Characterized by a prominent lateral yellow stripe running from snout to tail, this snapper is considered by culinary experts to be one of the tastiest fish harvested fresh from Florida waters. This delicate, nutritious fish can be compared in texture and flavor to its cousin, the Florida red snapper and can be seasoned and cooked in a variety of ways.

RED SNAPPER ATTRIBUTES
Firm texture, white meat with mild flavor. Lean fish.

SUBSTITUTE SPECIES
Grouper, Swordfish, Tilefish, Amberjack.

HOW MUCH TO BUY
• Whole or drawn fish: 3/4 to 1 pound per serving.
• Dressed or cleaned fish: 1/2 pound per serving.
• Fillets or steaks: 1/4 to 1/3 pound per serving.

BUYING, STORAGE AND HANDLING
Remember to purchase seafood last and keep it cold during the trip home.
Fresh whole fish should have:
-- A shiny surface with tightly adhering scales.
-- Gills that are deep red or pink.
-- Clean shiny belly cavity with no cuts or protruding bones.
-- A mild aroma, similar to the ocean.

Fresh steaks, fillets and loins should have:
-- A translucent look.
-- Flesh that is firm and not separating.
-- A mild odor, similar to the ocean.
-- No discoloration.
-- Packaging that keeps them from being bent in an unnatural position

PREPARATION
• Keep raw and cooked seafood separate to prevent bacterial cross-contamination.
• After handling raw seafood thoroughly wash knives, cutting surfaces, sponges and your hands with hot soapy water.
• Always marinate seafood in the refrigerator.
• Discard marinade; it contains raw juices which may harbor bacteria. When marinade is needed for basting reserve a portion before adding raw seafood.

COOKING
• The general rule is 10 minutes per inch of thickness, at the thickest part of the fillet or steak, at 400-450 degrees F.
• If fish is cooked in parchment, foil or a sauce, add 5 minutes to the total cooking time.
• Fillets less than 1/2 inch thick do not need to be turned during cooking.
• Fish cooks quickly. Do not overcook.
• Fish is done when the flesh becomes opaque and flakes easily when tested with a fork.
• Poaching, steaming, baking, broiling, sautéing, microwaving are excellent low-fat cooking methods, if you do not add high fat ingredients.
• Marinate in your favorite salad dressing prior to cooking.
• Broil, bake, steam or microwave, then cube and add to pasta or salad greens for a delicious salad.
• Broil or grill with lime-butter and seasoned salt.
• Oil the grill to prevent fish from sticking.
• Bake whole fish with a crab or shrimp stuffing.
• Add leftover fish in broken pieces to salads, soups or sauces.

NUTRITION
Nutritional values for approximately 4 ounces (114 grams) of raw, edible portions
• Calories 110
• Calories From Fat 10
• Total Fat 1 g
• Saturated Fat 0 g
• Cholesterol 45 mg
• Sodium 50 mg
• Total Carbohydrates 0 g
• Protein 23 g
Florida Department of Agriculture and Consumer Services www.fl-seafood.com