NATIONAL GRILLING MONTH RECIPES
With preparations for 4th of July weekend celebrations underway, Maria Zoitas* has prepared a variety of unique grilled recipes that are great for an upcoming BBQ or summer family gathering. All of these recipes can be prepared on an outdoor grill or indoors on a stove-top/George Forman grill, making each dish adaptable for any type of lifestyle.
*Maria Zoitas is the creator of "Maria's Homemade" line of prepared food sold exclusively at Westside Market NYC
www.wmarketnyc.com/
FRUIT KEBABS
Ingredients:
• 1 Lb. Watermelon cut into one-inch cubes
• 1 Lb. Honeydew melon cut into one-inch cubes
• 1 Lb. Cantaloupe cut into one-inch cubes
• 1 Lb. Pineapple cut into one-inch cubes
• ½ Cup of honey
• 1/3 Cup of unsalted pistachio shelled nuts, chopped roughly.
• 6 pieces wood skewers (6" long, soaked in water for 2-3 hours before use)

Directions:
• Preheat grill at 400°F.
• Pass the cubed fruit (in whichever order you want) through the wood skewers and place them onto the hot grill to create grill lines for about 20 seconds each side.
• Remove and place them in an oval platter, drizzle the kebabs with honey and sprinkle the chopped pistachios on top and around the grilled fruit kebabs.

GRILLED LEMON CHICKEN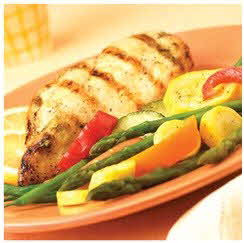 Ingredients
• ½ Cup Fresh Lemon Juice
• ½ Cup Soy Sauce
• ½ Teaspoon Ground Ginger
• ¼ Teaspoon Ground Black Pepper
• 4, 6 oz Skinless, Boneless Chicken Cutlets

Directions
• Combine lemon juice, soy sauce, ginger, and black pepper in large re-sealable plastic bag
• Add chicken to bag, seal bag and then toss the bag several times to coat chicken
• Marinate chicken in refrigerator for 2 hours
• Heat grill pan on medium-high heat
• Remove chicken from bag, discarding marinade, and cook chicken 4 to 5 minutes per side
• Serve with grilled or steamed vegetables

GRILLED VEGETABLES ON CIABBATTA BREAD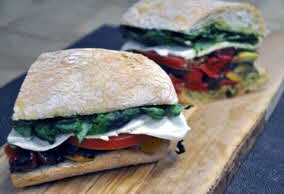 Ingredients:
• 6 Oz. grilled mixed vegetables (peppers, eggplant, zucchini and red onions)
• 4 Slices of fresh mozzarella
• 4 Slices of beefsteak tomato
• 3 Leaves of red leaf lettuce
• ¼ Cup of pesto sauce
• 1 Ciabbatta

Directions:
• Slice the ciabbatta bread lengthwise.
• Spread the pesto sauce on each side, place the grilled vegetables on one side of the bread, add the mozzarella slices, and then add lettuce and tomatoes.
• Top the sandwich with the other ciabbatta half and enjoy.

MEDITERRANEAN STYLE GRILLED CHICKEN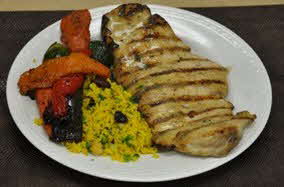 Ingredients:
• 3½ Lbs. boneless chicken breast
• 2 Teaspoon black pepper
• 2 Tablespoon minced garlic
• 1 ½ Tablespoon kosher salt.
• ¾ Cups lemon juice.
• ¼ Cup fresh chopped tarragon
• 1 Cup Greek yogurt
• ¾ Cups Extra Virgin Olive Oil
• 2 Teaspoon dry oregano

Directions:
• Mix all ingredients in a glass bowl cover with a plastic wrap and refrigerate for 4-6 hours.
• Preheat gas or charcoal grill for ten minutes.
• Grill chicken breasts, each side for 6-7 minutes or until they reach internal temperature 165°F.