The Pace Foods Story
Pace: The Original Picante Sauce
David Pace grew up in Louisiana, learning the ins and outs of his family's syrup business. Pace earned a football scholarship to Tulane University, where he played in the first Sugar Bowl in 1937 and earned his undergraduate degree in science. But World War II and pilot training school brought him to San Antonio, Texas, where he returned after his discharge in 1945 and began a career in the food industry.

Following in his family's footsteps. Pace began his own food business of bottled syrups, as well as jellies and jams. All of these products were made, packed and shipped out of a small space in the back of a liquor store that he and his wife, Margaret, rented. As time went on, he expanded the business to a variety of other condiments. Always on the hunt for new ideas, in 1947 he decided the real "syrup of the Southwest" was Mexican sauce - which is now known as salsa.

Pace pursued his new idea passionately and urgently. Starting with a basic recipe, he dove into experimentation with different blends of ingredients, testing the results on his golf buddies, before settling on the winning mix of jalapenos, onions and tomatoes. He named his creation "picante" sauce - Spanish for "piquant," meaning "flavorful" or "spicy."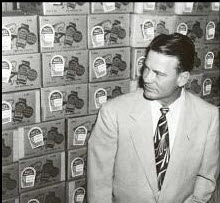 While continuing to sell some 58 assorted condiments, he tinkered with his picante sauce formula for the better part of a decade, determined to find just the right cooking time - enough to seal in the flavor and preserve it, but not a second longer. As Pace perfected the recipe that is still used today, demand grew, leading him to the bold decision to drop the rest of the company's line to focus on Pace Picante sauce.

He shared his passion for picante sauce with zeal, visiting restaurants with a jar in hand, using it during his meal, and leaving it behind on the table for other patrons and the restaurant owners to try when he was done!
On the Trail of Fresh Ingredients
Right from the start, David Pace realized that fresh ingredients would set Pace Picante sauce apart. He even tried growing his own jalapenos - but the local deer were so fond of his peppers that he had a hard time maintaining a supply.

Undeterred, he began buying his peppers directly from local farmers. Later, the company began following the "jalapeno trail," buying from different regions according to the harvest season, to find the best and freshest peppers throughout the year. In recent years, the Pace brand has developed its own pepper seeds to ensure the perfect flavor and texture, and today uses more than 25 million pounds of fresh jalapenos every year - more than anyone else in the country.
Salsa Catches Fire Across America
David Pace didn't just make picante sauce - he loved it, and used it in a variety of ways. He felt picante sauce was at home flavoring many different dishes, serving it with eggs, chicken, and burgers. He was even rumored to mix a spoonful into his morning coffee!

Though salsa with Java didn't catch on, a growing number of fans heartily agreed with David Pace about picante sauce's versatility. The company began receiving letters from customers who discovered Pace products in Texas, moved north, and missed their picante sauce. As David Pace retired in 1979, other family members not only kept all those fan letters, but shared them with grocers and were able to bring the flavors of the Southwest to stores and kitchens all across the country.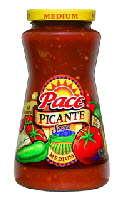 In 1981, to accommodate different palates, the company introduced "mild" and "hot" varieties to accompany the original "medium" Picante sauce. In 1989, Pace gave Picante sauce fans a whole other salsa experience by adding Thick & Chunky salsa to the Pace family of products. This offered consumers a choice between the smoother and more finely blended picante sauce versus the thicker salsa with large chunks of crisp vegetables.

The growing demand for Picante sauce and salsa reflected the changing demographics of America as well as the increasing popularity of Mexican restaurants and cuisine. Pace's vision was coming to life, as the Picante sauce he created became a leader in the Mexican category - tantalizing consumers' taste buds across the country. The sauce of the Southwest was growing in recognition as a versatile, flavor enhancer that was spicing up meals in restaurants nationwide. As consumers tasted these Mexican sauces, they wanted to bring them home - and did, in record numbers. In 1991, Mexican sauces famously overtook ketchup as the top-selling condiment in the United States in total dollar sales, with Pace salsa and Picante sauce leading the trend.
Pace Foods since was acquired by Campbell Soup Company in 1995. Pace products are still made in Paris, Texas, with the same uncompromising care that David Pace put into every bottle.

Pace Foods introduced seven new specialty salsas in 2008, catering to the increasingly adventurous tastes of today's consumers. These salsas are made with distinctive ingredients Pace is known for, like guajillo peppers, asadero cheese and real blue agave tequila. The specialty salsa line includes Pineapple Mango Chipotle, Black Bean & Roasted Corn, Triple Pepper Salsa, Tequila Lime Salsa, Salsa Verde, Pico De Gallo, and Mexican Four Cheese Salsa Con Queso.

Still a hot commodity 60 years after pioneering the Mexican sauces category. Pace Picante sauce and salsas took top honors for their categories in Chile Pepper magazine's 2009 Fiery Food Challenge. Pace Foods took home a total of six awards, including three of the coveted first-place Golden Chile trophies, for Tequila Lime, Triple Pepper and Picante sauce - Hot. These recent wins affirm that the quality, great taste and craftsmanship Pace has perfected is still winning the hearts of consumers and salsa aficionados to this day.
www.pacefoods.com