Say Cheese!
University of Wisconsin–River Falls students, faculty and staff develop a special proprietary process to create Cobblestone Red, an artisan cheese.
By Brenda Bredahl, UW–River Falls
Using a 6,000-year-old culinary tradition, students, faculty and staff at the University of Wisconsin–River Falls (UWRF) have taken the pairing of cheese and wine to a new level, one that is paying huge dividends for Wisconsin's artisan cheese industry.

Through an experiential class that taps student's creativity and entrepreneurship, UWRF produced Cobblestone Red, a specialty cheese that blends the fruits of a local vineyard and winery with the university's White Cheddar Curd, a creamy, semi-soft cheese. The results are delectable and profitable.
"When students take pride in what they are doing, you receive a better-quality product," says Ranee May, UWRF food science department faculty and manager of the Falcon Foods Store on campus. "The students have ownership in Cobblestone Red."

May came up with the idea after traveling to China to help establish an artisan yak cheese plant. "I was just thinking about the idea and it snowballed from there," she says. "It made sense to follow the university's emphasis on the St. Croix Valley and find a product to partner with that was grown and produced locally."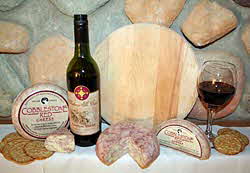 May and her students established a partnership with Chateau St. Croix Winery and Vineyard near St. Croix Falls and applied a special proprietary process to its Chateau Rouge wine, a specialty blend of red Zinfandel and Muscat. The result is a rich, full-bodied, sweet burgundy-colored wine that carries the flavors of fresh berries, black cherries and vanilla.

Cobblestone Red has been so popular that the inaugural 1,300 pounds sold out in just three weeks after it premiered at the World Dairy Expo in Madison and was featured in news media from the Denver Gazette and the St. Paul Pioneer Press to Corporate Report Wisconsin and WFRV-TV in Green Bay. The next batch of about 200 pounds will be aged and ready in early March, and several batches are in various stages of aging and are set for staggered release.

Typically, UWRF students learn to make the more common Wisconsin cheese varieties, which are sold through Falcon Foods. Cobblestone Red is the first artisan cheese made by the student-run food plant, and the students were responsible for everything from research and testing, to production and packaging, to product marketing and launch.
To reflect that entrepreneurship, May says, the class adopted a slogan, "Made by students with student pride."

The WiSys Technology Foundation is assisting Falcon Foods with the trademark process. WiSys identifies innovative technologies developed throughout the UW System and brings them to the marketplace for the benefit of the inventors, their university and the state's economy. Early in Cobblestone Red's development, the students and Falcon Foods also received marketing assistance from the Dairy Business Innovation Center, a Madison-based nonprofit organization dedicated to growing specialty and artisan dairy businesses.

Laura Wojchik, a student from Amery, Wisconsin, who is majoring in marketing communications with an agricultural emphasis, helped with surveys and taste testing.
"This has been a great opportunity for students, and awareness of the product will continue to grow," she says.

All of Falcon Foods' ingredients come from local sources whenever possible, May says. Students staff the Falcon Foods plant, as well as the new UWRF Dairy Learning Center barns, where the resident herd's milk is used to make cheese, ice cream and other products as part of the bachelor's degree program offered by the UWRF College of Agriculture, Food and Environmental Sciences.

Steve Johnson, a UWRF food science major from Dorchester, Wisconsin, worked in the dairy plant and made many of the first batches of Cobblestone Red. "It is a unique cheese that is not normally found in a grocery store, and it is a nice change of pace because it is locally produced," he says.

Advance orders are recommended, emphasizes May. Cobblestone Red can be ordered in the Falcon Food store located in the UWRF agricultural sciences building or on the UWRF Falcon Food Store Web site. It is also available at the Chateau St. Croix Winery and Vineyard.

UWRF alumnus Rod Nilsestuen, who is secretary of the Wisconsin Department of Agriculture, Trade and Consumer Protection, says both the state's artisan-cheese industry and the commercial-cheese sector have a bright future. "We see no end in sight for continued steady growth of Wisconsin's cheese sector," says Nilsestuen. "Wisconsin has led the nation in cheese production since overtaking New York in 1910."

Nilsestuen says Wisconsin produced a record 2.5 billion pounds of cheese in 2006, setting a record by producing more than one-quarter of the nation's cheese. This growth is credited to the demand for high-quality, specialty-artisan cheeses, which accounted for 45 percent of the national specialty-cheese market and increased in Wisconsin by 26 million pounds.

It appears likely that Cobblestone Red will help keep Wisconsin on top.