Food for Thought - Nov 18, 2009 - Mark R. Vogel - [email protected] - Mark's Article Archive
Chateau Leoville Las Cases
The economic recession that has recently plagued our country has affected every stratum of society. Obviously the poor and middle class have been hit the hardest but even the affluent have seen their wealth decrease. The bottom line is, every socio-economic class has responded by tightening their belts, and one of those first notches is the elimination of luxury goods, such as fine wine.

People of every economic echelon are purchasing less expensive wine. For serious wine aficionados, (i.e., seekers of fine wine, not just quaffers indifferent to the wine's pedigree), economics has inevitably put a damper on acquisitions. Middle class wine lovers often have a repertoire of relatively inexpensive wines that form their mainstay, but occasionally, maybe a holiday like Christmas, they splurge and treat themselves to a special bottle. But inevitably, those "special" bottles have probably become less special, at least in terms of cost.

If once in a blue moon, you can still indulge in a superlative wine, you obviously want the best quality you can acquire at the lowest price possible. With that concept in mind I introduce you to Chateau Leoville Las Cases, (sha-TOH lay-aw-VEEL lahss KAHZ). Chateau Leoville Las Cases is a 200+ acre estate located in the Saint-Julien appellation in the Bordeaux region of France. The wine is comprised of 85% Cabernet Sauvignon, 14.5% Merlot, and .5% Cabernet Franc. What renders Leoville Las Cases so unique is that it is amongst the best Bordeauxs in France, but less costly than many of its peers. "Less costly" is relatively speaking. The price is actually "low" given the magnitude of its quality and the price of its contemporaries. To understand why Leoville Las Cases is such a value, one must first understand the Bordeaux classification system.

In 1855, France's wine industry devised a classification system for ranking the chateaux of Bordeaux. Wines of the highest caliber were deemed "1st growths." There are only five chateaux to be deemed a 1st growth and naturally they command the highest prices. These are followed in descending order by 2nd, 3rd, 4th, and 5th growths. The next level down is Cru Bourgeois, followed by Petits Chateau. Chateau Leoville Las Cases is designated a 2nd growth

The problem with the classification system is that it's 150 years old. There are a number of chateaux that over the years have changed and should be upgraded or downgraded accordingly. Either way, it remains the tarnished gold standard for quality, and more importantly price.

Leoville Las Cases is a perfect example of why the 1855 classification desperately needs to be updated. Although rated a 2nd growth, Leoville Las Cases consistently produces wine of 1st growth quality. It maintains a reputation for making stellar wine even in difficult vintages. This is due to the soil and biochemistry of its vineyard, (known as the "terroir"), and the skill of its winemakers. Leoville Las Cases is adjacent to Chateau Latour, a 1st growth Bordeaux heralded by many to be the pinnacle of Bordeaux due to it's unmatched terroir. Thus, Leoville Las Cases' propinquity to Latour means that, without getting into some hair-splitting, it shares some of the best land in the area for viticulture.

As stated, Leoville Las Cases consistently produces wine of first growth quality. But because of its undeserved "2nd growth" status, its price is considerably lower. I performed a search on wine-searcher.com (a website for scoping out the best prices on wines nationwide), and reviewed prices for the 2002, 2003, 2004, and 2006 vintages of Leoville Las Cases. These were all rated 94 points or higher by Wine Spectator Magazine on their 100 point scale. In fact, the 2003, 2004 and 2006 were rated 95 points or higher, thus deeming them a "classic" wine, Wine Spectator's highest accolade. I found the 2002 for as low as $95 and the 2003, the strongest vintage, for as low as $150, with the 2004 and 2006 prices somewhere in-between.

While these prices might still seem exorbitant, it should be noted that the 1st growths cost three to four times the price of Leoville Las Cases. For example, the cheapest I could find the 2003 Chateau Latour was $568. The 2003 Latour was rated 98 points, only 1 point higher than the 2003 Leoville Las Cases, and yet costs almost four times more. If you can indulge in such extravagance on a rare occasion, Leoville Las Cases will afford you preeminent quality at a price that doesn't completely break the bank.

Leoville Las Cases is a full bodied, tannic, and darkly colored Bordeaux. When properly aged, (10-15 years from vintage), it evinces an unparalleled balance and harmony on the palate. Such Bordeauxs are destined for hearty fair: roasts, red meat, game, and decadent cheeses and patés.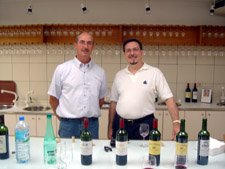 I had the distinct pleasure of visiting Leoville Las Cases in the summer of 2007 and was given a personal tour and tasting by their Cellar Master Bruno Roland. In addition to their primary wine, Leoville Las Cases produces a variety of others from varying grape varieties and locations. I was thoroughly impressed with every wine in their repertory. For more information on Leoville Las Cases and a description of all their wines, see the Leoville Las Cases page on my website:
foodforthoughtonline.net/Chateau_Leoville_Las_Cases.html


Also Visit Mark's website: Food for Thought Online