PUMPKIN SEASON
The pumpkin is a member of the gourd family, which is native to the Western Hemisphere. There is evidence to support that the natives of Mexico were eating gourds as early as 5500 BC.
When the Colonists arrived in North America, the Native Americans were growing pumpkins. It was after learning about these pumpkins did the Pumpkin Pie tradition begin during the Fall.
Large, round and orange, the pumpkin has a mild sweet flavor with edible seeds. The seeds are commonly known as pepitas.

Season
September through March.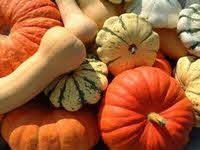 How to Choose
Smaller sized pumpkins have a more tender and sweet flavor . The largest pumpkins available weigh over 100 pounds. Choose a pumpkin that is heavy for its size and shows as few blemishes as possible.

Storage
Store pumpkins at room temperature up to a month, or up to 3 months in the refrigerator. Any cut up pieces should be wrapped in plastic wrap and refrigerated up to 5 days.

Spices
Allspice, brown sugar, butter, cardamom, cinnamon, cloves, cumin, ginger, nutmeg.
The spices traditionally used with pumpkin are considered warming spices in Asian medicine. This aids in digestion and gives a boost of energy. Too much can cause burning in the stomach and nervousness.

Preparation
Pumpkin can be prepared like any other squash, peeling skin if so desired.
Rinse and cut the squash lengthwise. Remove and discard the seeds and excess fiber. May peel skin if desired.
• Stir-Fry: tender when pierced.
• Bake: 400 degrees 30 - 40 minutes, uncovered.
• Microwave: ½ the squash and microwave for 10 -12 minutes.
• Boil: Cut into chunks and boil 7 - 9 minutes.
• Steam: Cube and steam for 6 - 8 minutes.
• Roast: 400 degrees for 30 - 45 minutes.
Wine Pairings
Depending on how you prepare your pumpkin and to what you are going to serve it with, try serving a Chardonnay or Sauvignon Blanc with your pumpkin soup; or a Sauternes, Vouvray, Moscata D'Asti, Auslesen or Zinfandel Blanc with your pumpkin pie.

Equivalencies
1 pound = 1 cup cooked and mashed

Nutritional Qualities
1 cup cooked = 80 calories, 2 grams protein, 1 gram fat, 18 grams carbohydrates, with riboflavin, Vitamins A & C.
Pumpkin contains some anthelmintic properties, which is helpful against prostate disorders, stomach problems, worms, nausea and morning sickness.

Jennifer A. Wickes, Food Writer, Recipe Developer, Cookbook Reviews
http://culinaryjen.gather.com/
http://foodpursuit.blogspot.com/
http://www.gardenplate.com
http://www.libraryjournal.com