BEEF STEAK POT PIE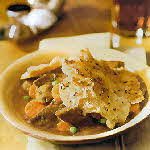 Rich, bold flavor in this traditional family favorite.
Prep Time: 10 minutes
Cook Time: 25 minutes
Servings: Serves 6

Ingredients:
• 1½ lbs. boneless beef chuck blade OR 1½ lbs. boneless top sirloin, cut 1 inch thick
• 1 package (8 oz.) cremini mushrooms, sliced
• 1½ cups frozen crinkle-cut carrots
• 1½ cups frozen peas
• 2 tsp. chopped fresh thyme, divided
• 1 tsp. minced garlic, divided
• salt and pepper, to taste
• 3 Tbsp. cornstarch
• 1 can (13¾ to 14¼ oz.) ready-to-serve beef broth
• 1 refrigerated pie crust (1/2 of a 15-oz. package)

Instructions:
Heat oven to 425°F. Cut beef steak lengthwise in half, then crosswise into 1/4-inch thick strips.

Heat large nonstick skillet, sprayed with nonstick cooking spray, over medium-high heat until hot.

Add mushrooms; stir-fry 3 minutes. Add carrots, peas, 1 tsp. thyme and 1/2 tsp. garlic; stir-fry an additional 3 to 4 minutes or until carrots and peas are defrosted. Remove from skillet; set aside.

In same skillet, add 1/2 of beef; stir-fry 1 to 2 minutes or until outside surface of beef is no longer pink. Season with salt and pepper, as desired.

Remove from skillet with slotted spoon; set aside. Repeat with remaining beef.

Dissolve cornstarch into beef broth; add to pan. Bring to a boil; cook and stir about 1 minute or until sauce is slightly thickened and any browned bits on bottom of skillet are dissolved. Return vegetables and beef to pan; stir to combine.

Place beef mixture in 2-inch deep pie plate (9 inch diameter), or similar size casserole dish.

Place crust over beef mixture allowing edges to drape over pie plate. Sprinkle remaining 1 tsp. thyme and 1/2 tsp. garlic evenly onto top of crust. Place pie plate on baking sheet
.
Bake in 425°F oven 16 to 18 minutes or until crust is golden. Remove from oven to wire rack; let cool 5 to 10 minutes before serving.
Suggestions:
For a rich-flavored sauce, add 1/4 cup whiskey to pan just before adding the beef broth mixture.
Recipe courtesy of Texas Beef Council