ROASTED CAULIFLOWER AND CHEESE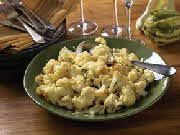 Preparation time: 10 minutes
Cooking time: 20 Minutes
Makes 16 servings
Ingredients
• 1/4 cup extra-virgin olive oil
• 5 to 6 cups cauliflower florets, about 1 1/2 inches in diameter (1 medium head)
• 1 teaspoon salt, plus more to taste
• 1/2 teaspoon ground white pepper, plus more to taste
• 1 tablespoon sliced garlic
• 2 sprigs fresh thyme
• 1/2 cup grated Cabot 50% Reduced Fat Cheddar

Directions
1. Preheat oven to 450F.

2. Heat oil in large oven-proof sauté pan over medium-high heat. Add cauliflower and sprinkle with salt and white pepper. Add garlic and thyme and sauté until cauliflower is lightly golden.

3. Place in oven and roast for 5 to 8 minutes longer.

4. Remove from oven. Spoon off and discard any excess oil. Sprinkle cauliflower with cheese. Return to oven for several minutes, or until cheese is melted. Taste cauliflower, adding additional salt and white pepper if needed.

Nutrition Analysis
Calories 123 , Total Fat 11g , Saturated Fat 2g , Sodium 435mg , Carbohydrates 3g , Dietary Fiber 2g , Protein 5g , Calcium 70mg

Recipe & photo courtesy of Cabot Creamery Cooperative
www.cabotcheese.com