Lamb Cutlets With Butterbean Mash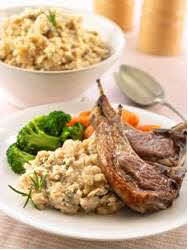 A Canned Food Week UK recipe. Let's face it, nothing quite beats a traditional Sunday dinner, but that doesn't mean you have to rely on a traditional Roast. Why not mix it up a bit with Lamb Cutlets with Butterbean mash created by James Martin? Instead of using potatoes, the innovative mash alternative uses a can of crushed butterbeans.
Serves: 4
Preparation Time: 5 minutes
Cooking Time: 20 minutes
Ingredients
· 8 Lamb rack cutlets
· 1 tbsp olive oil
· 1 onion, chopped
· 3 cloves of garlic, finely chopped
· 2 x 400g cans of butterbeans, drained
· 1 tbsp rosemary, finely chopped
· Zest and juice of ½ a lemon
Method
• Griddle or grill the lamb cutlets.

• Heat the oil in a deep sided frying pan or wok.

• Add the onion and fry until soft, add garlic and continue frying for 1 minute.

• Add drained butterbeans with 2 Tbsp water, gently heat through, then mash with a potato masher. Add a further splash of olive oil if dry.

• Sir in rosemary and serve with lamb cutlets.
Hints and Tips
Butterbean mash is also delicious served with pork chops or sausages.
Try using different varieties of beans to make your mash.
Nutrition Information (per serving)
· Calories: 434
· Protein: 38.0g
· Carbs: 25.0g
· Sugars: 4.0g
· Fat: 22.0g
· Sat Fat: 8.0g
· Fibre: 7.0g
· Sodium: 96mg
Canned Food UK will be running the 2nd Canned Food Week April 14-20, 2014. (www.cannedfood.co.uk/cannedfoodweek)