SPANISH WINE & FOOD PARINGS: RIBEIRO
James Beard Nominee Jose Andres Unveils Spring Pairings Menu
Recipes below
Interested in welcoming spring like a star-chef? Just in time for spring, José Andrés, GQ Chef of the Year 2009 and James Beard Awards nominee 2010, has created a simple and tasty spring menu featuring his favorite Spanish ingredients, and all paired with wines from his hometown region of Ribeiro, Spain.

Ribeiro is well known for easy-drinking, indigenous varietals like Treixadura, Torrontés, Loureira, and Godello as well as the more well-known Albariño. The floral, aromatic style of these wines makes for a great alternative to Sauvignon Blanc if you are up to try something new.

So hit the greenmarket to buy some local asparagus, pick up a bottle of Ribeiro and indulge in delicious pairings recommended by the star-chef himself!
JOSÉ ANDRÉS SPRING TAPAS & RIBEIRO MENU RECIPES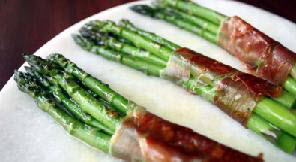 ASPARAGUS WITH SPANISH CURED HAM
Ribeiro Pairing Wine:
Try with a Glass of Godello. With a pleasant mouth filling taste and balanced acidity, Godello perfectly balances asparagus' taste.
Serves 4
Ingredients:
~ Spanish extra-virgin olive oil
~ 20 thin stalks asparagus
~ 4 slices jamón Serrano (Spanish cured ham)
Instructions:
Brush a large skillet or flat griddle with a little olive oil and heat over medium heat.

Divide the asparagus into 4 bundles of 5 stalks. Wrap each bundle with a slice of ham.

Place the bundles in the skillet. Cook the asparagus on each side until they caramelize slighty and the ham becomes crispy, 5-8 minutes.

Note: Be careful not to let the bundles over cook. You want the asparagus to stay crisp and for the ham not to burn.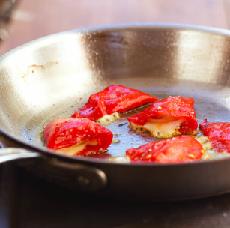 SEARED PIQUILLO PEPPERS STUFFED WITH TETILLA CHEESE
Ribeiro Pairing Wine: Try with a Glass of Treixadura.
Amazingly crisp, fresh, full of minerality and well balanced acidity, Treixadura offers a perfect counterpoint to the rich flavor of peppers with cheese.
Serves 4

Ingredients:
~ 5 tablespoons Spanish extra-virgin olive oil
~ 1 tablespoon Spanish sherry vinegar
~ 1 tablespoon minced shallot
~ ½ scallion, white part only, thinly sliced
~ Sea salt and freshly cracked pepper
~ 8 piquillo peppers
~ 4 ounces Tetilla (Spanish cow's milk cheese from Galicia), cut into 2-inch sticks
~ Fresh thyme sprigs
~ Fresh parsley sprigs
Instructions:
Whisk 4 tablespoons of the olive oil, the vinegar, shallots and scallions together in a mixing bowl. Season with salt and pepper. Cut a small slit into each piquillo pepper and slide a stick of cheese into each pepper.

Heat the remaining tablespoon of olive oil in a medium sauté pan over high heat. Add the peppers and brown on both sides until the cheese begins to melt, about 30 seconds. Transfer the peppers to a serving platter, drizzle with some of the dressing and sprinkle with leaves from thyme and parsley sprigs. Serve immediately.