Slow Cooker French Onion Soup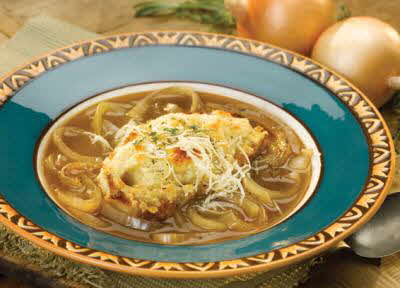 The Super-Easy Way to Make a Classic
Prep time: 10 minutes
Makes 1½ quarts or Six 1 cup servings.
INGREDIENTS
· 2 pounds yellow onions, trimmed, halved and sliced (2 quarts)
· 1 box (32 ounces) low sodium beef broth or stock (1 quart)
· 2 teaspoons dried thyme
· 1/2 cup white wine or water
· 2 tablespoons flour
· 6 thick slices sour dough bread or peasant/rustic loaf, crusts trimmed
· 1/2 cup grated low fat Parmesan or Swiss cheese
· Cracked pepper (optional)

DIRECTIONS
Place onions into a 5 or 6-quart slow cooker. Add broth and thyme and stir. Cover with lid and cook on high setting 3 to 4 hours or until onions are tender.

Mix white wine (or water) with flour and stir into the slow cooker. Cover and continue to cook on high setting for 1 hour longer or until thickened.

Before serving, place bread slices on a baking sheet and top with cheese. Broil until cheese is bubbly.

To serve, ladle soup into shallow bowls. Place one slice of hot cheesy bread into each bowl. Sprinkle with pepper to taste.

Recipe and image provided by the National Onion Association