SOMM: A Master Sommelier Documentary
Jason Wise's in depth look at the world of Master Sommeliers acquired by Samuel Goldwyn Films and set for Summer 2013 release
Samuel Goldwyn Films announced that the company is acquiring North American rights to writer/director Jason Wise's SOMM, a documentary chronicling the lives of 4 men in the weeks leading up to the Master Sommelier exam. The court of Master Sommeliers is one of the world's most prestigious, secretive, and exclusive organizations in the world of wine with under 200 candidates passing the Master level worldwide since its inception over 40 years ago. Goldwyn's announcement comes on the heels of the film playing to a standing ovation at the Santa Barbara International Film Festival.

With unprecedented access, SOMM takes the viewer on a humorous, emotional and illuminating look at a mysterious world very little is known about – the Court of Master Sommeliers and the much dreaded Master Sommelier exam.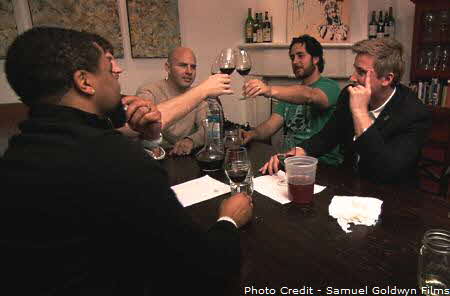 The film follows four candidates attempting to pass the prestigious Master Sommelier exam, a test with one of the lowest pass rates in the world. The exam covers literally anything having to do with the entire world of wine and that is just the beginning. Access to the Court of Master Sommeliers has always been strictly regulated and cameras have never been allowed anywhere near the exam…until now.

A Forgotten Man Films production, SOMM is written and directed by Jason Wise, produced by Wise, Christina Wise and Jackson Myers. Executive produced by William Fowler. Features Ian Cauble, Dustin Wilson, Brian McClintic and Dlynn Proctor.

Goldwyn plans a Summer 2013 release.

According to Peter Goldwyn, Senior Vice President of Samuel Goldwyn Films: "Jason has made an extremely entertaining film that anyone who has ever stumbled through a restaurant wine list will love. This is an amazing world and if you thought you knew something about wine you don't."

Filmmaker Jason Wise added: "After being immersed in the world of wine for so long, we knew the time was right for a film about what it takes to become a sommelier. It's an incredible honor to work with Samuel Goldwyn Films, and the unique approach to distribution they are planning is a perfect fit for SOMM."

ABOUT SAMUEL GOLDWYN FILMS
Samuel Goldwyn Films is a major, independently owned and operated motion-picture company that develops, produces and distributes innovative feature films and documentaries. The company is dedicated to working with both world renowned and emerging writers/filmmakers and committed to filmed entertainment that offers original voices in uniquely told stories.
This is best exemplified by the Academy Award nominated 'The Squid And The Whale' and 'Super Size Me', 'Amazing Grace' And Julie Delpy's hit comedy '2 Days In Paris'.
Past Goldwyn titles include the critically hailed 'Elegy' starring Academy Award nominee Penélope Cruz, 'Harry Brown' starring Michael Caine and the box office smash 'Fireproof'. 'Mao's Last Dancer,' Directed by Academy Award nominee Bruce Beresford was one of the top grossing independent films of 2010.
In addition to 'The Double Hour'', a revered thriller that was one of the top foreign language grossers of 2011, SGF released 'The Whistleblower', a powerful, ripped from the headlines thriller starring Academy Award winner Rachel Weisz and the 2012 release and critics darling 'Robot & Frank' starring starring Academy Award nominee Frank Langella, James Marsden, Liv Tyler and Academy Award winner Susan Sarandon.
Additional releases included 'Diana Vreeland The Eye Has To Travel', an acclaimed documentary about the late fashion icon, and Bandito Brother's 'Waiting For Lightning' about legendary skateboarder Danny Way.
Upcoming releases include Academy Award nominee James Cromwell starrer 'Still Mine' and 'Renoir', Gilles Bourdos' lush film on the famous painters later years.