CAROLINA CRAB CAKES WITH ZESTY REMOULADE SAUCE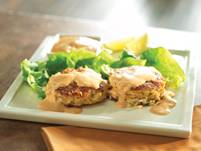 Prep Time: 15 min.
Cook Time: 12 min.
Makes 8 crab cakes

Ingredients
• 1 lb. lump crabmeat, drained and flaked
• 1 egg
• 3 Tbsp. mayonnaise
• 2 tbsp. FRANK'S REDHOT Original Cayenne Pepper Sauce
• 1 Tbsp. FRENCH'S Spicy Brown Mustard or FRENCH'S Horseradish Mustard
• 2 Tbsp. each, minced green onion and parsley
• 2 Tbsp. plain dried bread crumbs
• 1/2 tsp. Old Bay seasoning
• 3 Tbsp. olive oil
• Zesty Remoulade Sauce (recipe follows)

Directions
1. WHISK egg with mayonnaise, Frank's RedHot Sauce and mustard in large bowl. Stir in crabmeat, green onion, parsley, bread crumbs and seasoning; mix well.

2. SHAPE crab mixture into cakes using about 1/3 cup mixture for each; flatten slightly.*

3. HEAT oil in large nonstick skillet over medium-high heat until hot. Sauté crab cakes in batches about 3 min. per side until golden brown.

Serve with Spicy Remoulade Sauce.

*Tip: Prepare crab cakes through step 2. Cover and chill about 1 hour to firm.

ZESTY REMOULADE SAUCE:
Makes about 1 cup.
• 2/3 cup mayonnaise
• 2 Tbsp. Frank's RedHot Sauce
• 2 Tbsp. French's Spicy Brown Mustard,
• 2 tsp. sugar
• 1 tsp. Old Bay seasoning.
Mix together - Chill.

Recipe courtesy of Frank's Redhot Cayenne Pepper Sauce