May 3, 2001 Culinary Crossword
NOTE: PRINT page to work on puzzle. A link to the solution is below.
CLICK HERE to return to Previous Page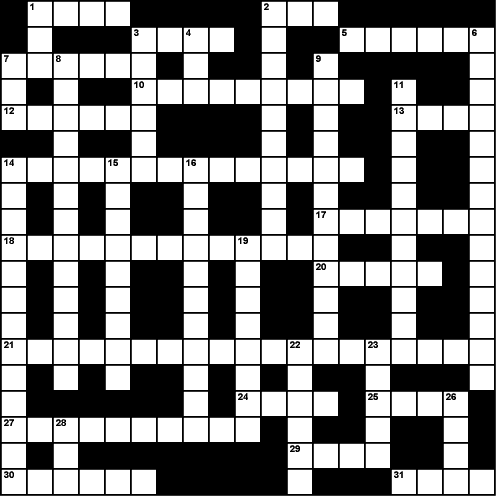 Across

1. A fleshy fruit (apple or pear or related fruits) having seed chambers and an outer fleshy part
2. Small Mediterranean evergreen tree with small blackish berries and glossy aromatic leaves used for flavoring in cooking; also used by ancient Greeks to crown victors
3. Cork
5. A method of preparing rice which originated in the East.
7. (Spanish) saffron-flavored dish made of rice with shellfish and chicken
10. A hand operated slicing machine with adjustable blades in a wooden or metal frame
12. The principal dish of a meal
13. A seaweed extract; Bengal isinglass
14. Basic prison diet
17. Baked dish of layers of pasta with sauce and cheese and meat or vegetables
18. Swiss cheese with nutty flavor often used in cooking
20. Pickled and salted relishes from India
21. Pungent sauce of soy and vinegar and spices
24. Dutch ____
25. Anise-flavored Greek liquor
27. Haricot vert
29. Slippery or viscous liquids or liquefiable substances not miscible with water
30. Oblong cream puff
31. Lobster ____


Down

1. English, snow, sugar or chick
2. A hot or cold dish consisting of meat, fish or fowl, boned, stuffed, rolled and tied, usually wrapped in cheesecloth and braised or poached.
3. Pam, short for ______ (not food related)
4. A large vessel for making coffee or tea.
6. Aromatic bulbous stem base eaten cooked or raw in salads
7. There is one in the sky.
8. A white wine from Bordeaux, 'between two seas'
9. Cutlery polisher
11. Cake covered with ice cream and meringue browned quickly in an oven
14. Thick sweet waffle often eaten with ice cream or fruit sauce
15. Chipped beef
16. Cultured milk product from Holland
19. A colloid in which both phases are liquids
22. A kitchen appliance in which food can be stored at low temperatures
23. Wet feed (especially for pigs) consisting of mostly kitchen waste mixed with water or skimmed or sour milk
26. Long mucilaginous green pods; may be simmered or sauteed but used especially in soups and stews
28. All European and American ones lay their eggs in the Sargasso Sea.

Solution
---
Copyright © 2001, James T. Ehler.